VonHaus predicts the hottest garden trends for 2022
When the warmer weather rolls around, we're often itching to get out into the garden and make the most of those elusive rays!
At VonHaus, we know that garden furniture and decorations can make or break your outdoor space.
So, with an eye on summer, we've identified the garden trends likely to sweep the nation.
Let's get into it.
Top 10 garden trends
Using Pinterest data and desk research, we identified ten burgeoning garden trends, compiling ten we predict will grace every British garden this summer. Here's the inside track on what you'll need for a sizzling summer in your garden: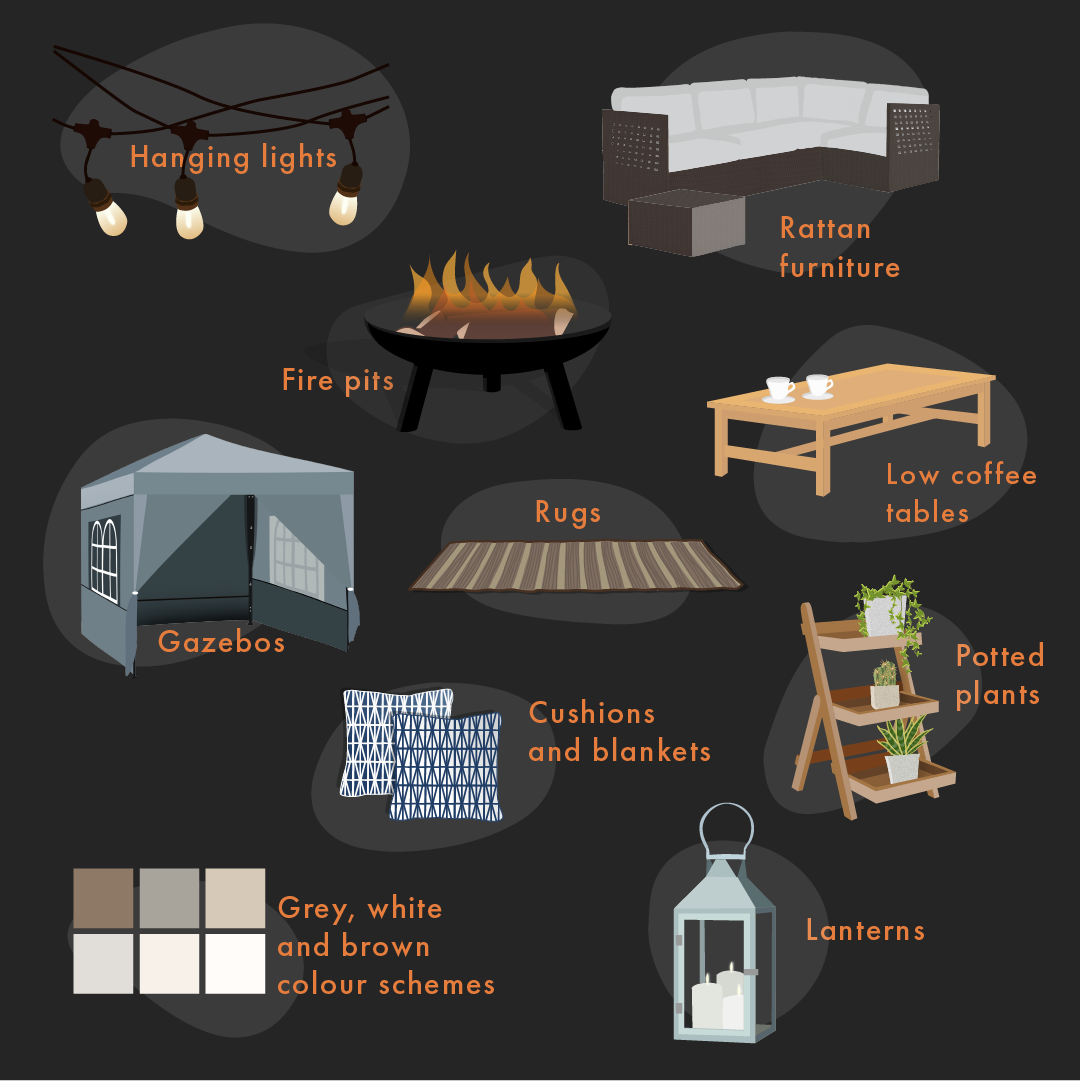 Hanging lights – whether they're dangling from tree branches or wrapped around the garden fence, hanging lights create a soft, luminous glow in your garden as the evening draws in.
Fire pits – bringing a little glamour and excitement to the garden, fire pits are great for staying cosy as the sun starts to set, keeping the conversation flowing long into the night!
Gazebo – ideal for those balmy days when you're firing up the BBQ; a gazebo keeps you cool and sheltered while you cook and relax.
Outdoor cushions and blankets – you can transform garden furniture into a comfy resting spot by adding some plush cushions and blankets.
Grey, white, and brown – these natural, neutral tones keep your garden colour scheme aligned with the natural elements.
Rattan furniture – another way to ensure your garden furniture is in keeping with the natural elements is to opt for rattan furniture. It's stylish, durable and lasts in the garden all year round.
Low coffee tables – low, sleek furniture has been in for a while now, but bringing the indoors outside is a great excuse to incorporate it into your garden aesthetic.
Rugs – It might seem baffling to have a rug outdoors, but there are plenty of outdoor options made with unique materials, like jute, to keep them from getting ruined by the weather, and they make sitting outdoors much comfier too!
Potted plants – Raised vegetable beds and hanging baskets are great if you have the time to maintain them. But sometimes, a standard potted plant can make your garden look leafy and natural – without the commitment!
Lanterns – a step up from fairy lights, lanterns exude elegance, especially when tucked into flowerbeds or perched at the edge of your patio – but consider fire safety when using real candles!
How to embrace these garden trends
If you're pondering the practicalities of these garden trends, have no fear! There are some simple ways you can implement these items into your garden, even if you're working with a small space or partying in adverse weather conditions.
Opt for outdoor cushions made of protective materials to prevent rain and sun damage. And use alternative materials for your low coffee tables, like concrete or rattan, which are designed to withstand the elements. You can also choose more practical potted plant solutions if you don't want to get big barrels of flowers.
Another excellent option for gardens lacking space, particularly balconies and small patios, is to blend the trends. For instance, you could combine rattan dining furniture with an overhead parasol to keep the sun off you, or hang lights inside the parasol to keep the area well lit and inviting.
Are you as excited as us to incorporate these summer trends in your own garden? We can't wait to see all the fun family BBQs and late-night shindigs this summer! And don't forget, for more garden, home, and lifestyle advice to brighten up your summer, check out our blog – we'd love to see you in the comments!
2022-04-27 10:38:00
0 viewed