Cast Iron Care Guide | How to clean and season cast iron pans
Cast iron casserole dishes, pots, pans, and skillets are cookware powerhouses.
Super versatile and durable, cast iron can last a lifetime – but it's all about how you look after it.
Before you start slow-cooking your favourite one-pot wonders, you'll need to give your cast iron pans a good clean and seasoning – and we're not talking about rosemary and thyme!
Confused? Don't be.
Here are some top tips on cleaning, seasoning, and keeping your cast iron in pristine condition:
#1 What is cast iron?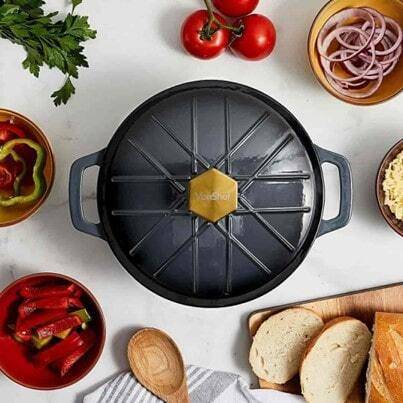 Cast iron has been around since ancient times and was used in armour and architecture – strong stuff indeed!
But if you're after a scientific definition, cast iron is an iron-carbon alloy with a carbon content of more than 2%.
If that went over your head like it did mine(!), it means it's incredibly strong, water resistant, and long last lasting.
These days it's a kitchen staple due to its high heat capacity, heat retention, and non-stick cooking when properly seasoned.
#2 Cleaning new cast iron pans
The first wash is the one exception to the no-soap rule for new cast iron pots and pans.
When you first unbox your new pan or skillet, wash it thoroughly with warm water and mild dish soap. This will help rid it of any dust or factory residue, leaving you with a fresh clean slate to get started.
#3 Are cast iron pans non-stick?
Yes! Cast iron skillets and pans are non-stick, but only once they're properly seasoned.
Cast iron seasoning is the pan's oil foundation, which makes it non-stick and rust resistant.
#4 How to season a cast iron pan
VonHaus cast iron dishes are pre-seasoned, but we recommend adding your own seasoning layer to futureproof your pan – especially when new.
Here's how to do it:
Wash your pan with mild dish soap and warm water.

Dry it thoroughly.

Add a thin layer of vegetable or cooking oil over the pan. Buff the oil until it no longer looks greasy to prevent the oil from pooling and becoming sticky.

Preheat your oven to 230°C. Place the pan upside down on a baking tray and pop it in the oven. Leave it for 30 minutes.

After leaving the pan to cool, repeat the oil buffing process before baking the pan again 2-4 times. This will form a solid cast iron seasoning layer.

Let it sit in the oven to cool before popping it in the cupboard – now it's fully seasoned!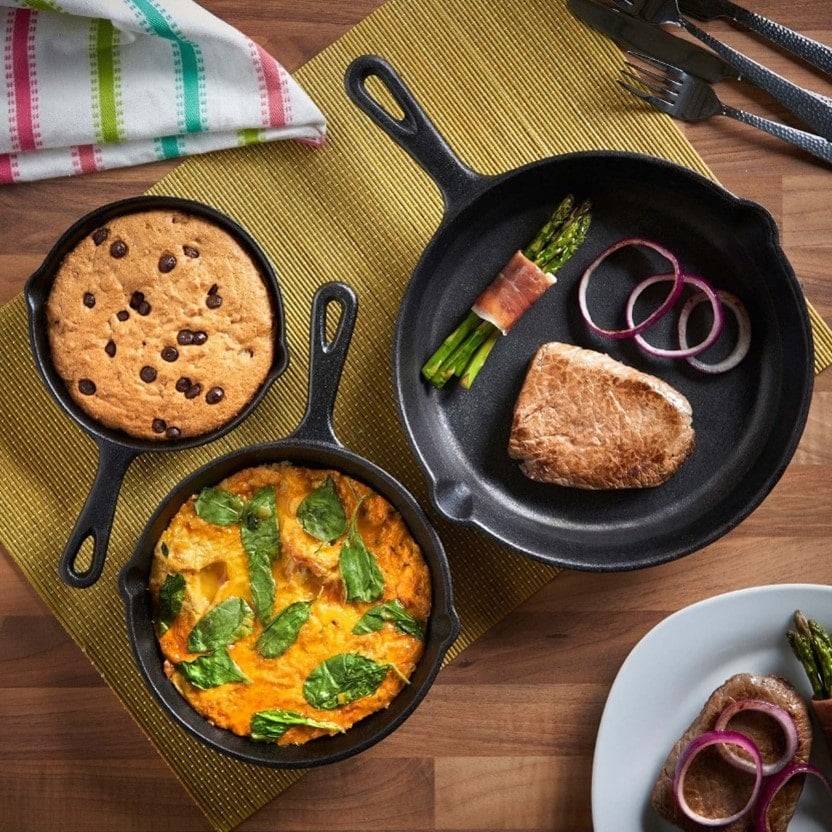 #5 How to wash cast iron pans
After the first wash, it's best to avoid soap.
Okay, we know cast iron can get pretty gunky, but try to limit using soap to once every couple of weeks.
Instead, follow our top tips for cast iron cleaning:
Don't soak the pan – This will damage the seasoning and cause pre-mature rusting.
Try to wash it ASAP after cooking – This will make it easier to scrub away any leftovers or crumbs while the pan is still warm.
Use warm water and a good scrubbing brush – Scrub your cast iron pan with a brush in circular motions.
Use salt to eradicate tough marks – Use salt to get rid of tough burn marks or residue that won't budge. Chunky sea salt crystals or kosher salt are best, as they reduce marks without stripping away the cast iron seasoning.
Dry your pan – Once you've washed your pan, pat it dry with a tea towel and leave it to air before putting it away. And you're done!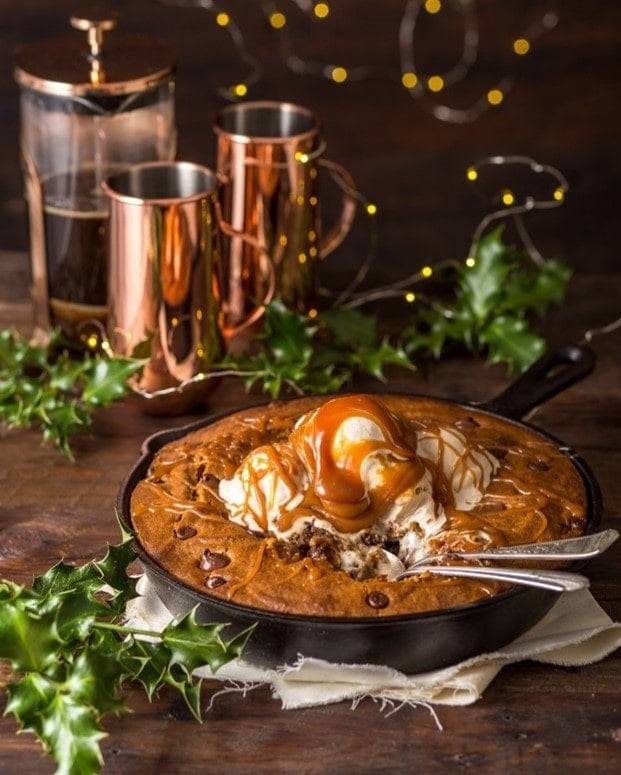 #6 Do cast iron pans work on induction hobs?
Yes! Another advantage of cast iron cookware is that it's compatible with induction hobs, as well as electric hobs and the oven, making it super versatile and easy to use in any kitchen.
Just be careful not to scratch the glass on your hob! You can prevent this by lifting your pan straight off the hob rather than dragging it across the surface.
#7 How to stop cast iron rusting
If you care for your cast iron, your pans should last a lifetime!
But there are a few rules that'll see your pan through the trickiest recipes and hottest heats.
Prevent your cast iron from rusting with these top tips:
Ensure your pans are dry before storing them.

Use your pan often to maintain its seasoning.

Avoid washing your pan with soap or chemicals.

Don't soak the pan.

Occasionally re-season your pan to reinforce its protection.
2020-10-27 12:39:00
0 viewed