How to make tasty homemade pizza in under an hour
Ready to transform your humble pantry into a Neapolitan pizzeria?
Buono!
Homemade pizza may seem like a lot of work, but the payoff rises above any dough to door offering.
Here, we guide you through the process of making your own pizza, from choosing the best dough and cheese to making a Margherita in under an hour!
Ready, set, let's go!
What is the best flour for homemade pizza dough?
Bread flour is the best flour for homemade pizza dough.
You can use all-purpose flour, but if you're aiming for an authentic crispy pizza crust, bread flour is best due to the higher gluten content.
How to make sure the yeast is active
Yeast is the most important pizza ingredient, bar none. It's the primary leavening agent in dough and will make your pizza rise.
When making your own pizza, active yeast is essential. Checking this is easy: just check the expiration date. Remember, if it's out of date, the yeast might not work, and no one wants limp pizza!
Another thing to bear in mind: if the yeast doesn't start foaming within ten minutes of being added to the water, it's probably inactive, and you'll need to start over with new, active yeast.
Overnight pizza dough
It's not necessary to leave your pizza dough to rise overnight. But it'll develop a deeper flavour and a puffier texture if you do.
Just make sure you take the dough out of the fridge and leave it for an hour at room temperature before using it.
How to roll out pizza dough
Perfectly round pizza looks amazing, but it can be tricky to make at home.
But with these tips, you'll be making authentic Neapolitan pizza in no time:
Pizza dough is easiest to mould at room temperature. So, if it's frozen, defrost it in the fridge to bring it to room temperature.
Dust a large surface with flour. Pop the dough onto it and move it around in a circular motion before pulling it outwards from the centre. Do this until the dough is too large to manage by hand.
Let the dough rest for 5-10 minutes.
Continue working the dough with your hands. If you can't get the dough to the diameter you want, flour a rolling pin, and continue to flatten the dough from the centre out.
And you're done! But don't worry if your dough isn't a perfect circle; you'll get better with practice!
What is the best cheese for pizza?
Mozzarella is the most frequently used cheese on pizza, but there's nothing stopping you from mixing it up when making your own pizza!
You just need to use a cheese that melts well, ensuring it's freshly grated.
It's best to manually grate fresh cheese yourself, though, as shop-bought grated cheese is coated with an anti-clumping agent that slows melting.
Here are some tasty cheeses with high meltability that are perfect for homemade pizza:
Blue
Cheddar
Fior di Latte
Gorgonzola
Parmesan – Parmesan is best mixed with other cheeses when used on pizza, so be creative!
Parmigiano-Reggiano
Pecorino
Provolone
Swiss
Easy pizza recipe: Pizza Margherita
Now you're armed with a host of pizza-making tips, let's dive into an easy homemade pizza recipe: Margherita!
But if you'd like to kick things up a notch, just throw on some of your favourite toppings – bellissimo!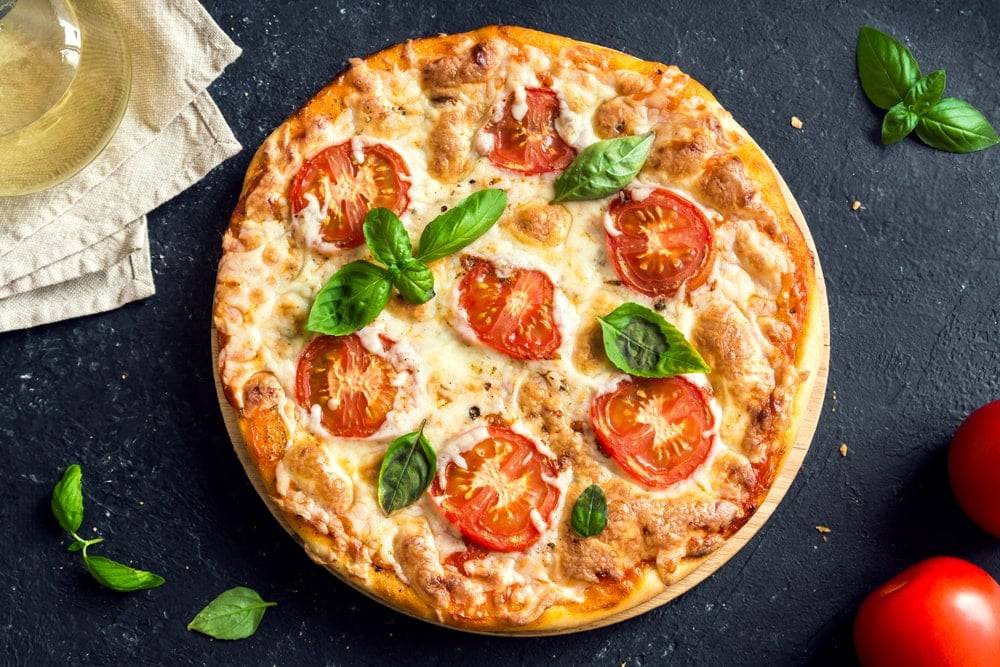 Pizza base
300g bread flour
1 tsp instant yeast
1 tsp salt
1 tbsp olive oil, plus extra for drizzling
Tomato sauce
100ml passata
Handful of fresh basil
1 garlic clove, crushed
Cheese and toppings
125g ball mozzarella, sliced
Handful of grated parmesan
Handful of cherry tomatoes, halved
To finish
Handful of basil leaves (optional)
Calories per slice: 431
Servings: Makes 2 pizzas, serves 4
Prep time: 25 mins
Cooking time: 10 mins
Total time: 35 mins
1. The base
Put the flour into a large bowl and stir in the yeast and salt.
Make a well, pour in 200ml of warm water and 1tbsp of olive oil.
Mix with a wooden spoon until you have a soft, slightly wet dough.
Turn the dough onto a lightly floured surface and knead for around 5 mins until smooth.
Cover the dough with a tea towel and set it to one side. You can leave the dough to rise if you prefer, but it's not essential for a thin crust.
2. The tomato sauce
Mix the passata, crushed garlic and basil (optional), then season.
Leave the sauce to stand at room temperature while you mould the base.
3. Roll out the dough
If you've let the dough rise, give it a quick knead before dividing it into two balls.
Roll the dough into large rounds on a floured worktop (about 25cm diameter each).
Ensure the dough is very thin as it'll rise in the oven.
Place the dough rounds onto two floured baking sheets.
4. Add the toppings and bake
Heat the oven to 240°C/220°C fan assisted/gas mark 8.
Place an upturned baking tray (or another baking sheet) onto the top shelf of the oven.
Smooth the sauce over the dough rounds with the back of a wooden spoon.
Scatter with grated cheese and tomatoes. Then drizzle with olive oil and season.
Place one pizza (still on its sheet) on top of the preheated tray/sheet.
Bake 8-10 mins until crisp.
Drizzle some more olive oil and scatter the basil leaves.
Repeat this step for the other pizza.
Calories 431
Fat 15g
Saturates 7g
Carbs 59g
Sugars 2g
Fibre 3g
Protein 19g
Salt 1.9g
And there you have it; decadent homemade pizza in under an hour!
Giving you plenty of time to check out our other handy hacks, lifestyle tips, and interior inspiration right here on the VonHaus blog.
And if you have any suggestions of what you'd like to see here in future, let us know in the comments – we'd love to have a natter!
Until next time, stay safe, and happy cooking :)
2022-05-03 15:22:00 0 viewed