Rattan 101: A Complete Buyer's Guide to Rattan Furniture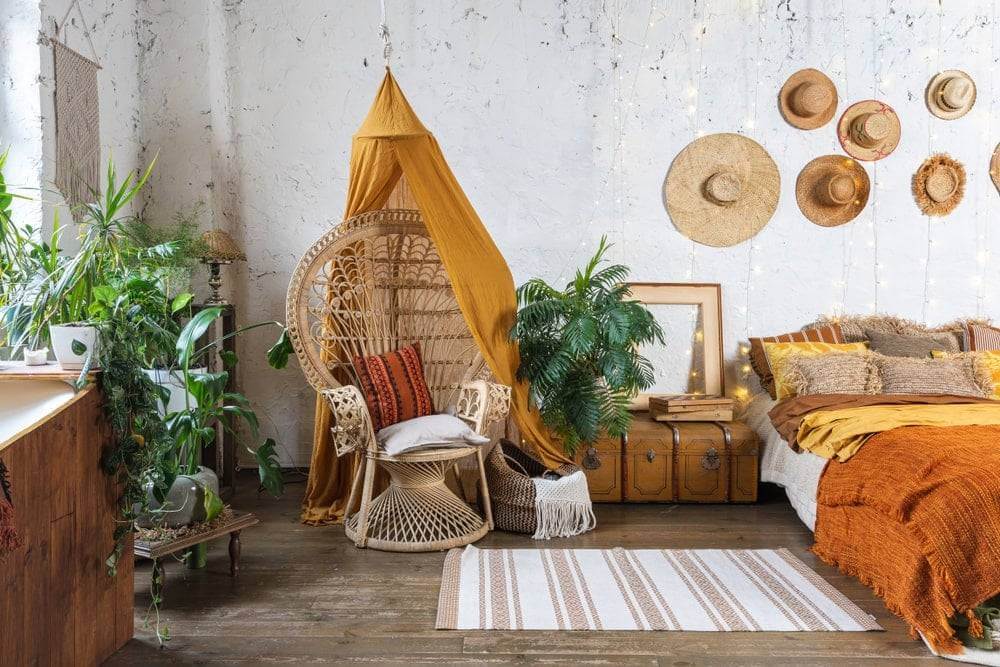 Warm neutral hues, whimsical swirls, and weatherproof durability – it can only be rattan.
Once confined to your granny's conservatory, rattan furniture breathes fresh life into any space – inside or out.
But misconceptions remain.
Is rattan waterproof, how is it made – and what exactly is the difference between rattan and wicker anyway?!
Well, you're in the right place for the full rattan furniture scoop, so sit down, get comfy, and let's talk rattan.
What is rattan?
Rattan is a vine-like species native to the tropical regions of Australia, Asia, and Africa. Like bamboo, it's lightweight, durable, long-lasting, and of course; stunning, making it an ideal material for both indoor and outdoor furniture.
Rattan can be either natural or synthetic, so let's unpack the two types:
Natural rattan
Natural rattan originates from the fibres of a plant related to palm trees. However, it's not an all-weather material and can be affected by the elements, the main culprits being sun and water damage.
PE rattan
PE rattan (synthetic polyethene rattan) mimics the look and feel of natural rattan but is much better suited to furniture.
The man-made fibres are woven in the same way, but its UV and water-resistant properties make it a formidable foe for inclement weather – and ideal for furniture.
What is the difference between wicker and rattan?
Often used interchangeably, wicker and rattan are, in fact, totally different things. Put simply:
Wicker is a style of weave; rattan is a material.
So, if you come across a product with wicker rattan weaves, it's made of rattan but crafted using a wicker weave.
Is rattan waterproof?
Natural rattan is not waterproof while PE rattan is weatherproof, which means it's resistant to rain but not 100% waterproof.
But as the differences between the two are imperceptible to the eye, PE rattan is better suited to furniture.
Its weatherproof properties make it longer-lasting, low maintenance and built to bear the brunt of the great British weather.
So you know it won't swell, rot, or grow mould in damp conditions.
However, despite its durability, it's best to use furniture covers to keep your rattan furniture in tip-top shape.
When did rattan become popular?
Rattan has a long, rich history stretching back to ancient Egyptian times, but the material saw a huge boom in the 1960s and 70s.
After a long period where sparse, functional furniture was the norm or rigid Victorian styles still clung on, the 60s ushered in the freewheeling, bohemian wave.
Nowadays, interior experts attribute rattan's soaring popularity to its rich textures, versatility, and our collective yearning for summer holiday vibes!
How is rattan furniture made?
To create its signature strength and durability, rattan furniture is set on an aluminium frame.
Then, using strong, flexible synthetic rattan, the material is woven in classic wicker styles to create the laidback boho look.
Weaving the horizontal strands between the vertical stands, the finished article is dense, durable, and exquisitely detailed.
How long does rattan furniture last?
PE rattan furniture will last 10-20 years if you take care of it; natural rattan's lifecycle is much shorter. This is due to PE rattan's weatherproof properties, namely, water and UV resistance.
How to clean rattan furniture
To keep your rattan furniture looking good as new, give it a regular once-over using these easy steps:
Start by dusting or hoovering your furniture using a brush tool

Use a toothbrush or cocktail stick to dislodge stubborn dust or dirt from its crevices

Using warm soapy water, gently wash the rattan with a cloth or sponge, before placing it in the sun or a well-ventilated area to dry

For a quick spruce up, simply dust your rattan to keep it looking fresh
How to style rattan
Rattan's versatility and texture will lift almost any décor design, from cosy country to boho and eclectic. But if you're unsure how it'll slot into your scheme, check out these styling tips for inspiration:
Bring warmth and texture to your space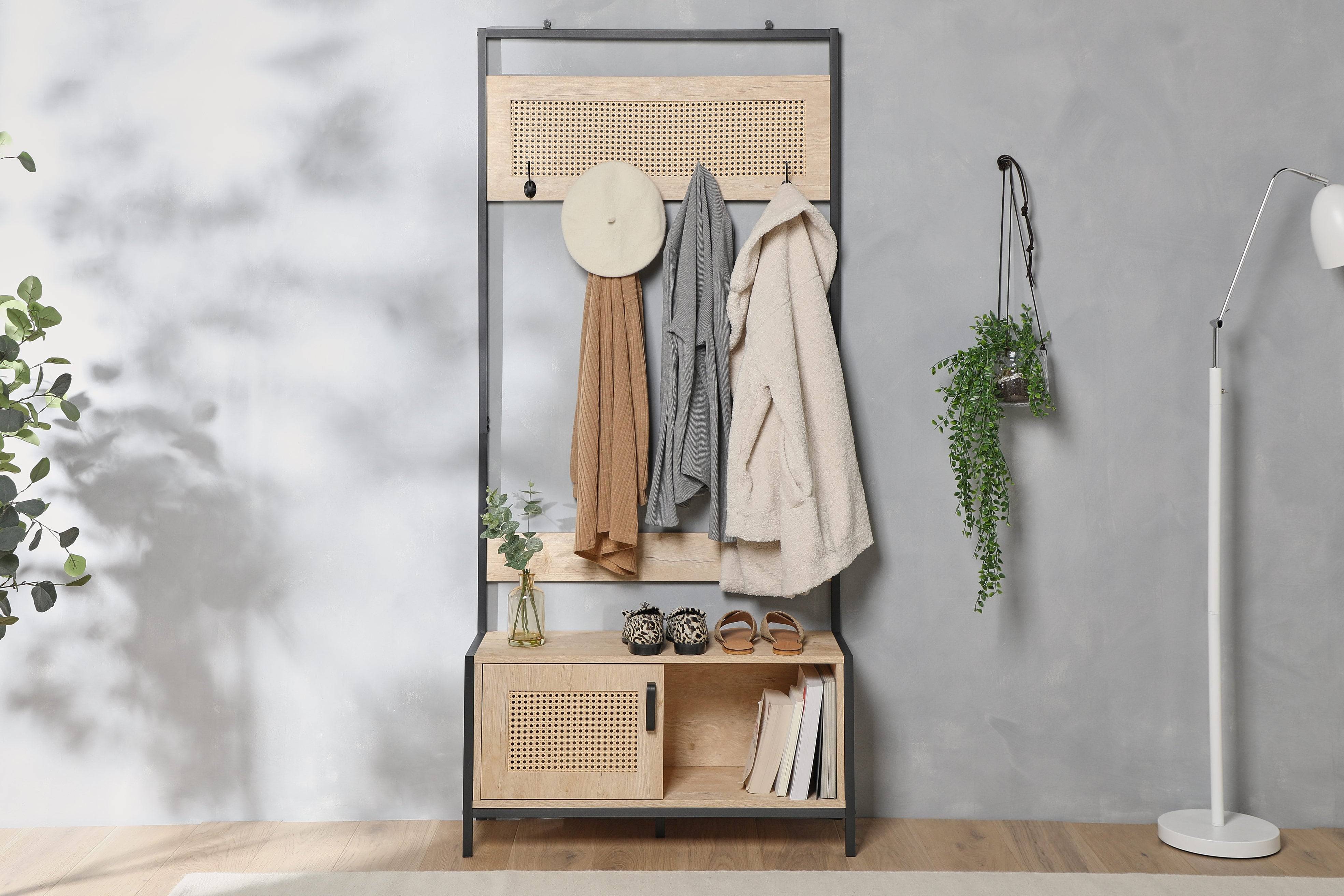 Rattan furniture imbues rooms with warmth and texture while ticking those all-important trend boxes.
Fancy your friends seeing it as soon as they walk in? Look no further than rattan hallway storage – our chic Lena unit brings effortless style to your space while reining in that pesky hallway clutter!
Rattan's tight weave texture and natural warmth also lift the look of your tech items, like this sleek widescreen sitting atop our elegant Riley rattan TV unit.
Pair rattan with your current décor
We love the idea of using rattan furniture with what you already have – and when done right, it creates a stunning, tactile aesthetic. Its natural, laidback looks pair with any décor, from stripped back minimalist to all-out eclecticism.
Case in point, this modern living room – the vibrant hues and accents create a striking contrast against the organic, natural-look rattan chair and soft pastel rug.
Plus, rattan's so lightweight, you'll have no problem moving it from room to room; perfect if you're always chopping and changing your décor!
Back to the future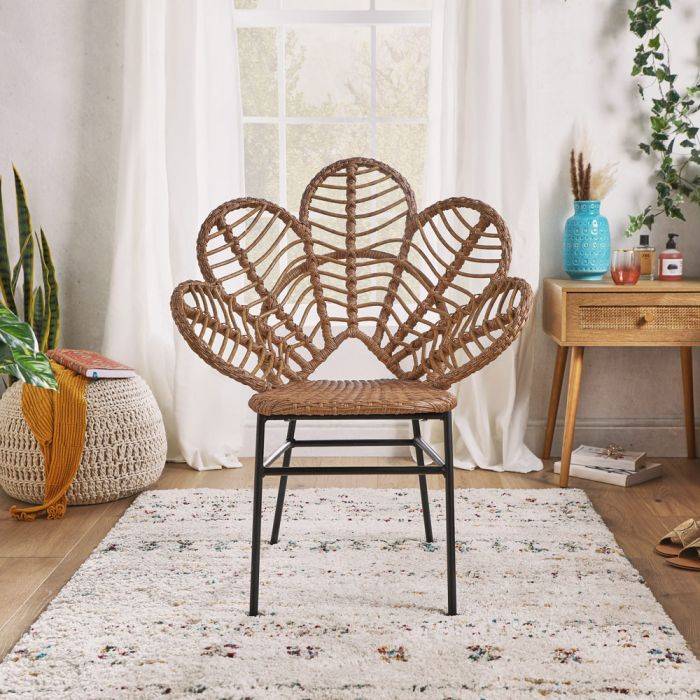 Recent décor trends see many of us stepping away from sleek minimalism, opting instead for nostalgic, retro-inspired pieces that combine casual looks with maximum comfort.
This rattan peacock chair is a perfect example, embracing the swirls of the seventies to create a fine balance of sleek lines, rustic looks, and handcrafted materials.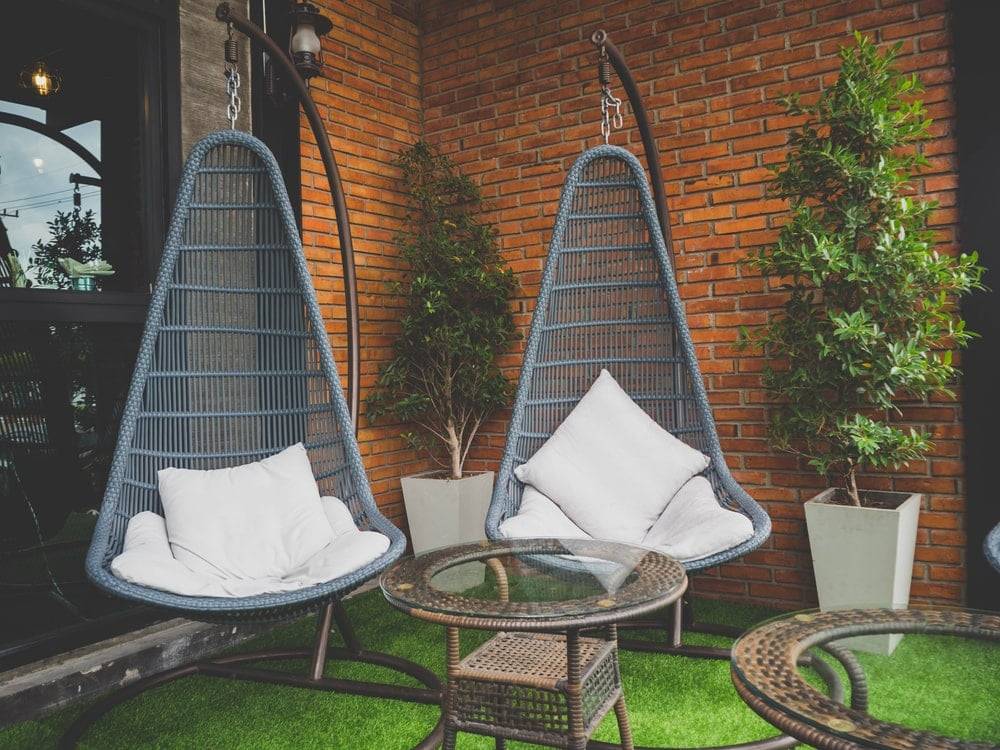 Liven up your rattan with a lick of paint
If neutral shades don't do it for you or your rattan's seen better days, a quick lick of paint will breathe new life into your piece.
While grey's not the first shade that springs to mind, just look at how these hanging egg chairs contrast with the rich green grass and warm, textured brickwork.
Rattan hanging egg chairs work just as well indoors, as we're sure you'll agree!
Use rattan in the kids' room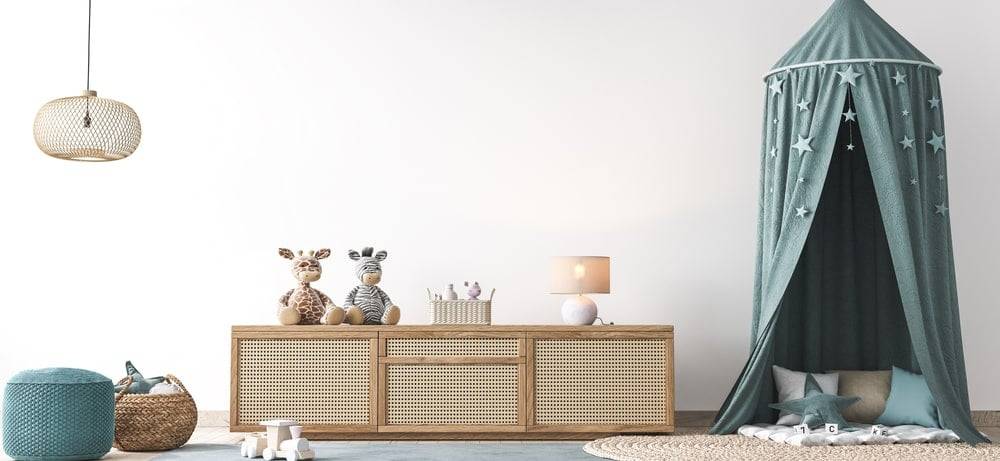 Lightweight and easy-to-clean, rattan is perfect for the kids' room, nursery, and other family-friendly areas.
Here, a rattan sideboard provides stowaway storage and a large smooth surface for the kids' toys and accessories. Add a soft throw blanket and some bright scatter cushions to make it extra cosy!
---
Now you're clued in on all things rattan; we'd love to see how you style it!
Tag @vonhaus.uk with your favourite rattan styles and check out our Insta shop to see how others are making their haus a home!
And for more interior inspiration, handy hacks and lifestyle tips, head over to our blog – we'd love to see you in the comments!
2022-04-05 09:35:00
0 viewed