Small dressing room ideas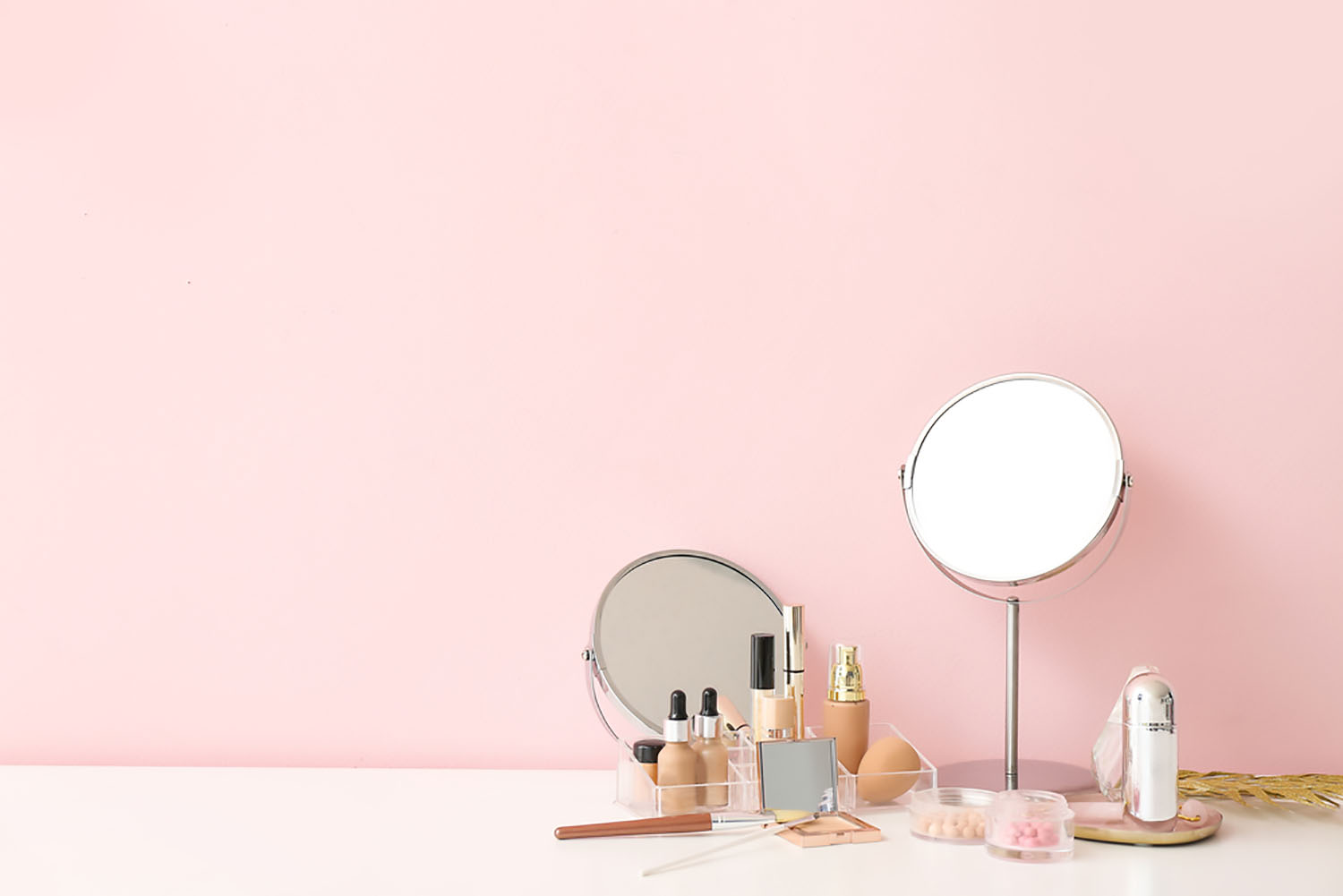 In the battle against clutter, some areas need a little extra attention. And our makeup stashes are front and centre. Bottles here, palettes there, rifling through your makeup bag for that elusive eyeliner.
But there's a chic, practical solution to your cosmetic woes: a dressing table.
Aside from evoking Hollywood vibes, a dressing table gives every cosmetic a home, making your daily beauty routine a breeze.
Today, we'll give you the lowdown on dressing room accessories and how to dress a dressing table before jumping into our top tips.
So, let's squeeze every bit of goodness out of your space with these big ideas for small dressing rooms.
Dressing room accessories
When it comes to dressing room accessories, the options are endless!
From storage baskets for your makeup to chic photo frames for snaps of your favourite memories, there's so much you can do to make your dressing table feel like your own.
One of the best things about dressing room accessories is their capacity to add a personal touch to your space, making it feel like a true reflection of you.
Think about the items you use every day – like your go-to perfume and jewellery – and display them on a stylish tray.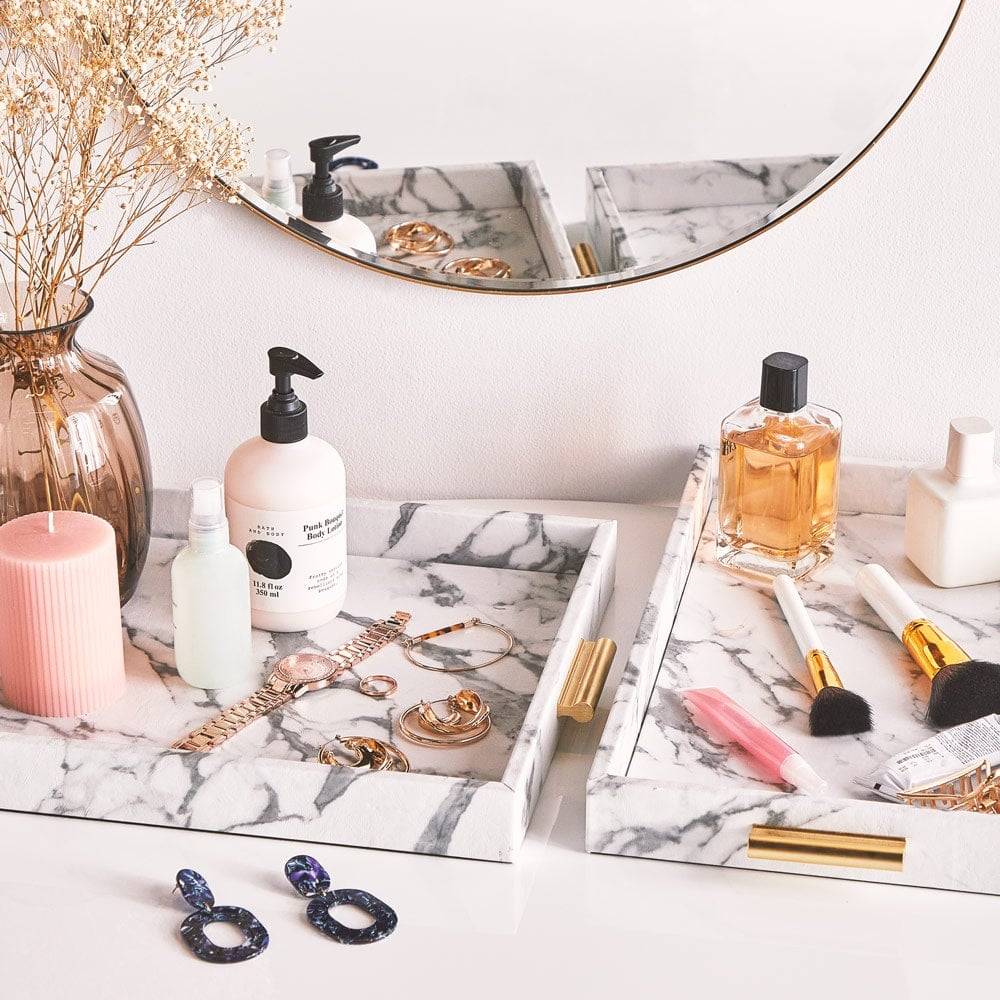 Set of Two BTFY Marble Trays - £14.99
Or go bold with a statement piece like a full-length mirror that doubles as wall art.
Whatever you choose, ensure your dressing table is organised to make getting ready in the morning a joy!
How to dress a dressing table
Curating your dressing table set-up is a brilliant chance to harness your creativity.
Start by choosing a statement piece, such as a beautiful vase of flowers or an inspirational art piece.
Next, add functional items like a jewellery tray, a lamp for soft lighting, and a catch-all for those loose trinkets.
Don't forget about practical storage options, such as a set of drawers or baskets, to keep your dressing table clutter-free.
Finish with some personal touches like a meaningful photo, scented candle, or a treasured trinket to make the space your own.
The key is to strike a balance between functionality and aesthetics to create a space that is both practical and visually pleasing.
With dressing room accessories covered, let's jump into some ideas to maximise your small dressing room.
Fill an alcove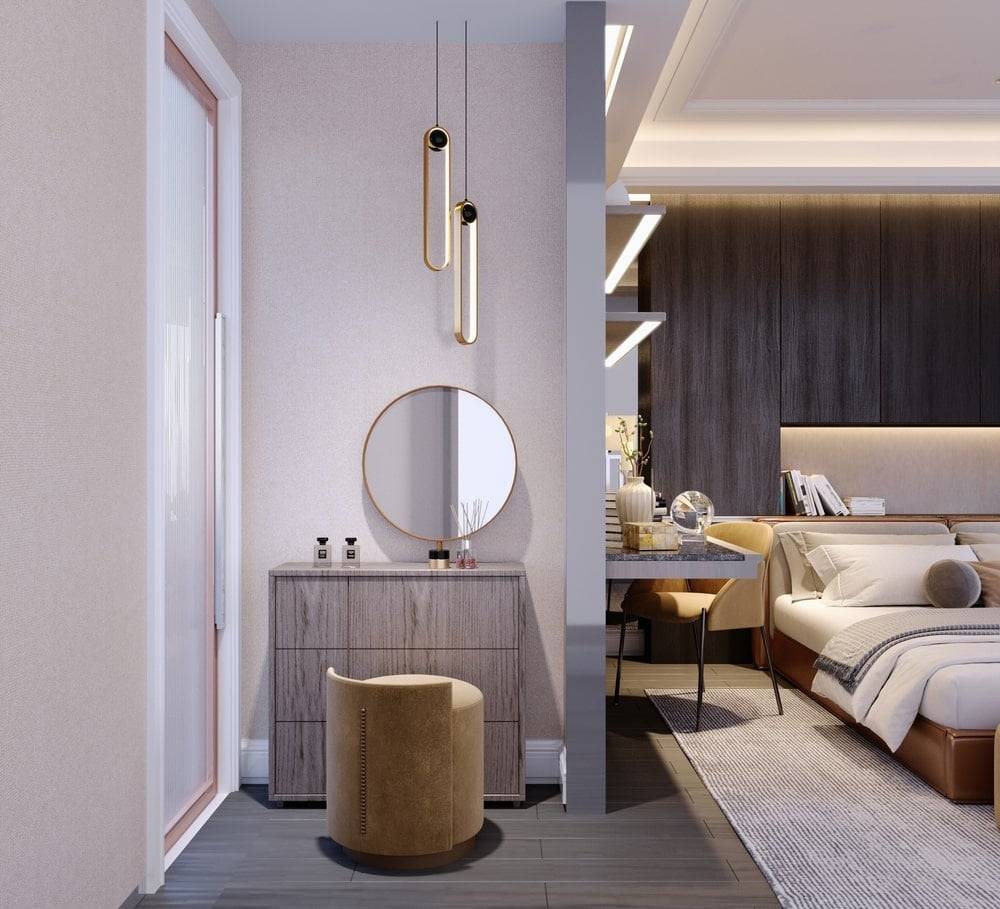 Dressing room idea number one: jazz up that alcove. Because slotting a dressing table into an awkward recess maximises the space and adds a playful touch.
By bridging the gap, you'll create a practical dressing room that maximises the space you're working with.
Space and drama
Mirrored dressing tables add drama. They also reflect light, making your room feel bigger and brighter. A big idea for a small dressing room.
If you're really pushed for space, hang an oversized mirror and keep the tabletop clutter-free to expand the illusion.
A comfy place to perch
Dressing tables give us a chic spot to get ready. But the right seat will take your boudoir to the next level.
A plush accent chair combines gorgeous looks with super-soft comfort, but a stool or pouffe works just as well – especially when space is tight.
Store your bits
In a small space, your dressing table's design is crucial. Built-in storage, like Jaxon's, gives every cosmetic a home. But if your makeup stash is anything like ours, you might need extra makeup storage!
The classic
Vintage or contemporary, the classic wooden dressing table does it all.
Choose a dark, ornate dressing table if you're more of a traditionalist, or opt for angles and clean lines to keep it contemporary.
Whichever way you like your wood, you can't go wrong with a timeless wooden dressing table.
All-out glamour
This grey quilted velvet dressing table will be the toast of any dressing room. Pair it with a Hollywood mirror for a luxe A-list feel.
The DIY dressing table
If you're handy with tools, why not build your own dressing table? Whether that's upcycling an old desk or vanity or starting from scratch, the sense of accomplishment is incredible!
---
So, a small dressing room doesn't have to mean sacrificing style or function.
With the right accessories, a well-dressed dressing table, and a few clever ideas, you can create a space that's both practical, gorgeous, and, most importantly – a reflection of you.
Dressing room accessories like storage baskets, photo frames, and statement pieces can add a personal touch to your space, while dressing a dressing table involves balancing functionality and aesthetics.
Filling that awkward alcove, using a mirrored dressing table for space and drama, and choosing the right seat for comfort can make a big impact in a small space.
By implementing some (or all!) of these ideas, you'll transform your small dressing room into a chic, functional space you'll love getting ready in every day.
If you have any more dressing room ideas, let us know in the comments! And make sure to visit our blog for more lifestyle tips and handy how-tos.
Until next time, friends!
2023-02-15 10:10:00
0 viewed