The Ultimate Guide To Cleaning Garden Furniture | Wood, Rattan & Textoline Cleaning
So you've got your garden looking beautiful with your favourite furniture pieces and plants, but how do you keep it looking as good as new? Unless you live in paradise, your outdoor furniture is sure to endure all weathers from unusually hot heat to heavy downfalls, sometimes even in the same week in Britain's case. And while all our furniture is built to last, it'll need a spruce up from time to time. Ensuring your furniture will always be clean and ready for use whenever the weather allows, and making sure it looks just as good next summer, here is our ultimate guide to cleaning your garden furniture, whatever the material.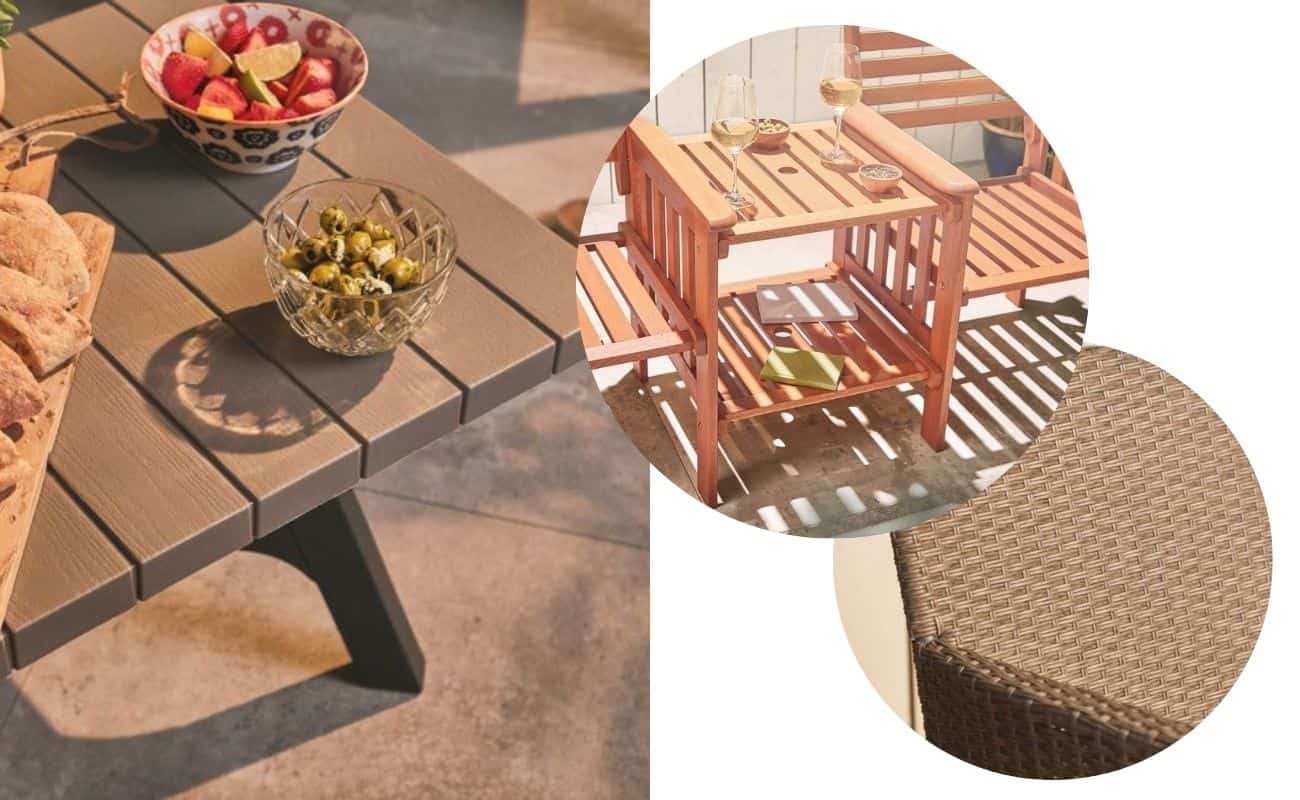 PE Rattan
Looking chic and adding a trending touch to your garden, PE rattan is also one of the easiest, low maintenance materials you can have, making it an ideal addition to your outdoor space. Giving you the look as traditional rattan with the weaved design, PE rattan is weather resistant and far easier to care for. By nature it shouldn't need too much cleaning as the PE material isn't prone to rotting or cracking, but giving it a regular tidy up will maintain the look and quality, especially if you're getting it back out of storage ready for the summer.
How To Clean PE Rattan
Start off by giving your furniture a good dust to get rid of any dirt or use your vacuum cleaner to get into all the little corners. If there is any mud or grime that's refusing the shift, use a brush to gentle scrub it away. At this stage you should also remove the cushions, you can wash these covers as normal in a machine.

Make up a mixture of washing up liquid and warm water, and wash the furniture down with a soft cloth. Let the whole thing soak in the mixture for a little while to ensure it drips into all the cracks.

Then rinse it off! Either using just water and a cloth again, or get your garden hose our and spray it down for ease. You might be tempted to use a pressure washer, but too much pressure on the furniture isn't a good thing and can lead to cracking. Opt for a gentler setting on your hose to be kind to the furniture.
Avoid: Using products containing bleach. These can be too harsh on the PE material and lead to cracking. Your PE rattan furniture really only needs a soapy water bath to keep clean.

Plastic
Easy peasy for care and cleaning, weatherproof and durable plastic furniture really is fuss-free. For week to week cleaning, follow the same process as above by simply giving it a dust and washing it down with soapy water. But if you've got any stubborn stains, avoid using bleach as this will overtime erode the plastic. Instead, try this kitchen cupboard hack.
How To Deep Clean Plastic Furniture
Mix together a quarter a quarter cup of vinegar with a litre of warm water. Use a sponge to wash the furniture down with this mixture.

Then wash it with water to get rid of the mixture for a deep clean.

For really stubborn stains, try sprinkling some baking soda onto a wet sponge and scrubbing a little for a gentle abrasive without bleach. But be gentle!
Overall, the best way to care for plastic furniture is to give it a once over with a cloth before use or before you store it away.
Wood
Its easy to overthink wood care with the various varnishes and treatments that promise the world. But as a natural material, its built to be durable and far more hardwearing than we give it credit for. There are a couple of things you can do to spruce it up and protect it though.
Avoid standing wood furniture on damp surfaces like grass to prevent rotting.

Use furniture covers to protect it from harsh weather or heavy downfalls.

Try not to let water sit on the furniture, if it was left out in the rain, go out and dry it off when you get the chance.

Give it a wash over with soap and water at the start of the summer season for a big clean, this really should be all you need.

Regular dusting and polishing will keep wood furniture looking tidy.

If you want to add an extra layer of protection, use treatments no more than once a year, but remember that wood naturally ages, but we love this more mature look.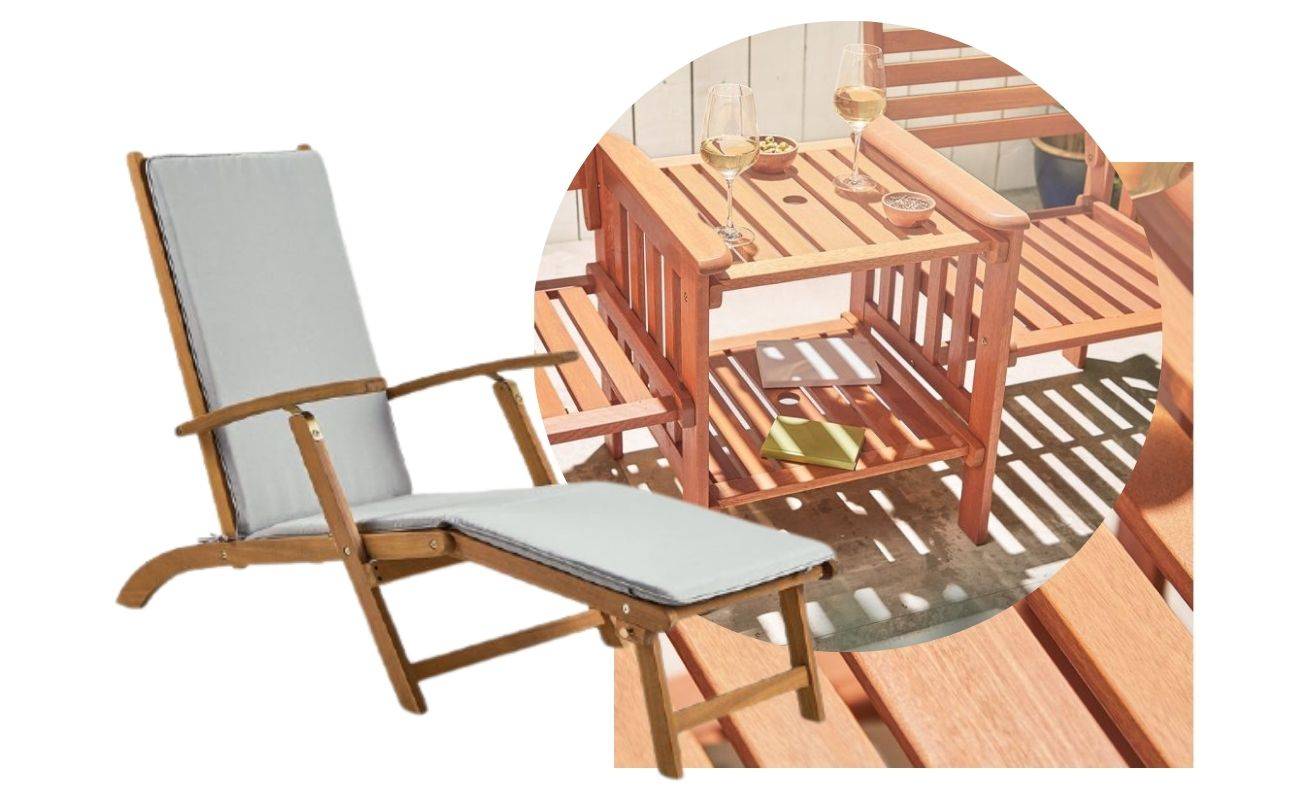 Textoline
A comfy and breathable fabric perfect for sunloungers, the mesh-like textoline material is easy to care for and clean. Set on metal frames, you can simply wash the frame down no bother with soapy water. For the fabric, its easy to give it a deep clean.
How To Clean Textoline
For a quick and easy clean, simply wipe the fabric down with antibacterial wipes or soapy water.

For a deeper clean, dilute bleach in a bucket of water and wipe it across the material. Let it drip through the fabric to get in all the cracks and rid of all the dirt.

Make sure to give your furniture a thorough clean before storing it away, but make sure it is fully dry first.
2021-05-10 14:15:00
0 viewed