4 Easy Steps For Getting the Perfect Lawn

Keeping your lawn looking tip top may seem like a lot of effort, but the good news is with the right equipment and the knowhow it doesn't have to be. It's not about the amount of work you put into your lawn – it's when and how you do it. We've got 4 simple steps to help you make your lawn healthier and more vibrant after getting the TLC it deserves.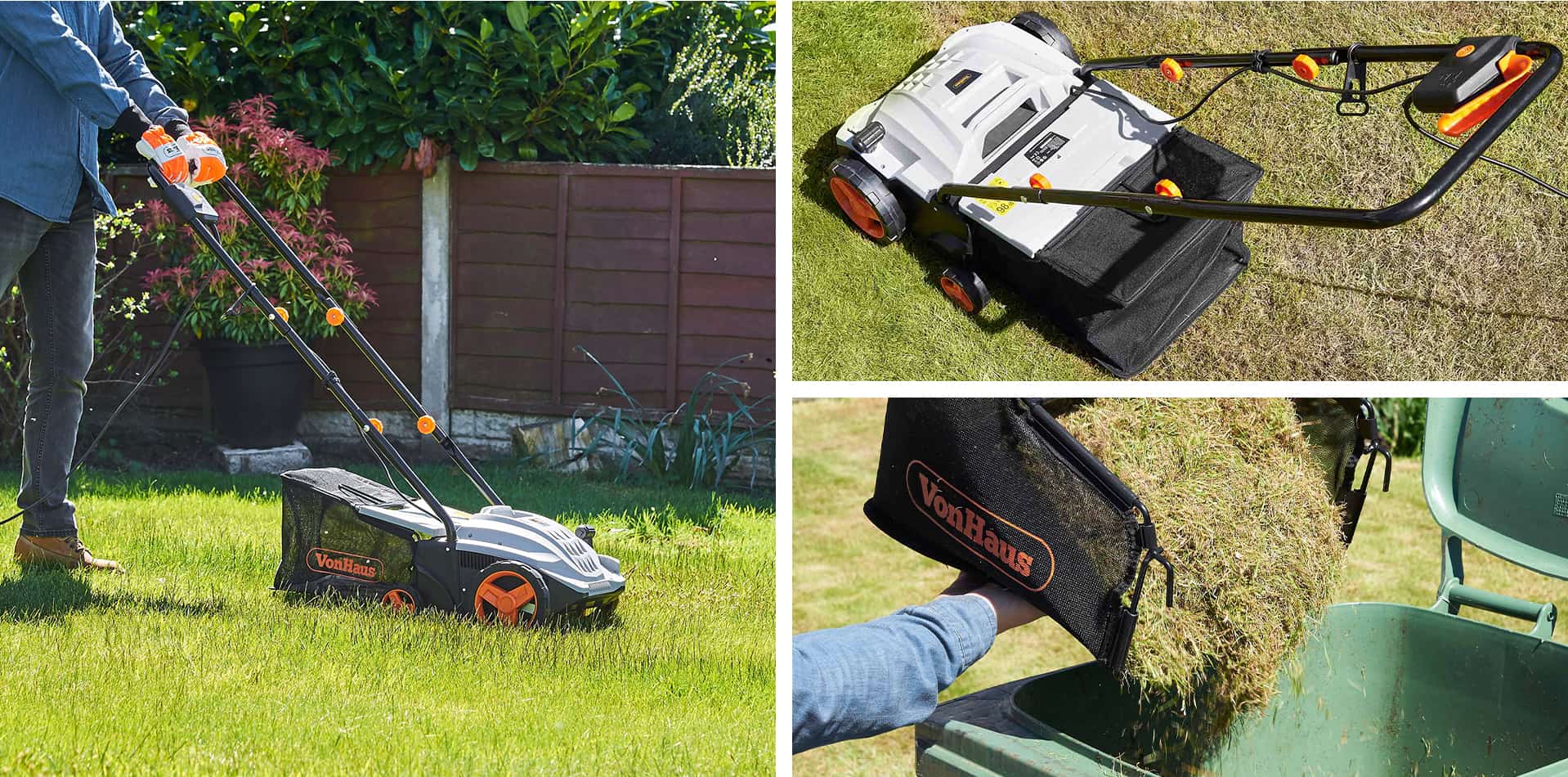 1. Scarify your lawn
Over the winter months leaves, weeds, moss and grass clippings start to build up on your lawn creating lawn thatch. This effectively chokes the grass, stopping it from receiving air, water and much needed nutrients. As a result, your lawn health takes a big hit and becomes much less attractive with less growth and lots of patches developing.
One way to combat this is to use a lawn scarifier which uses blades or teeth to cut into the thatch and penetrate the soil. It removes all debris from the surface area, allowing the lawn to breathe again. The VonHaus Rake & Scarifier and 1800W 2 in 1 Scarifier will help bring both light and air to the soil; encouraging your lawn to grow. We recommend doing this 2 times a year in late spring (March/April) and autumn (September/October).
The powerful 1800W motor of the 2 in 1 Scarifier will enable you to easily remove moss, weeds and plant debris from the surface of your lawn, helping prevent water logging and lawn diseases. While the Rake & Scarifier boasts a dual-purpose drum, making it effortless to switch between two interchangeable rollers.
3. Declutter the lawn
Clutter's not limited to just the inside of the house. When left unattended for any amount of time, Mother Nature will have a good go at messing up your garden with leaves, moss and twigs. As we mentioned earlier, this sitting on top of your grass can prevent it from breathing properly. But if it's not in bad condition beneath the debris, the 75L Garden Dump Trolley is the helping hand that'll make clearing it a breeze.
Minimise trips to the rubbish bin and restore some order to your garden with the VonHaus 75ltr Garden Dump Trolley Cart. The handy garden assistant makes light work of heavy loads and is a great alternative to a standard wheelbarrow; it boasts an easy release tipping mechanism and a soft touch push / pull handlebar to effortlessly pull and steer the cart along.
Moreover, if you have a front garden, this is pretty much an integral part of your home's character, charm and appeal, so pay extra attention to them. Especially if your garden's prone to having litter blow in from the street.
4. Don't forget to keep things watered
How often, and how much you need to water your lawn depends entirely on temperature, humidity and type of grass. Generally, lawns require 1-2 inches of water per week (from either you or Mother Nature herself), but if your lawn is in sandy soils then it may need twice as much, since they drain quickly.
The best time of day to water your lawn is early morning. The cooler air and calmer winds of the morning gives the soil ample opportunity to soak up the water, helping to keep your lawn hydrated throughout the day. Lawns that are watered of an evening and remain wet overnight are more prone to disease caused by moisture-loving mould and other fungi.
Do you water the lawn with a heavy watering can or struggle with a tangled hose pipe? Rid yourself of the hassle and make watering the garden a pleasure, not a chore. The VonHaus 30m Auto-Rewind Hose Reel allows you to reach all areas of your garden thanks to a 30m retractable reel and comes with all the necessary fittings needed to connect it to your tap and mount on your wall.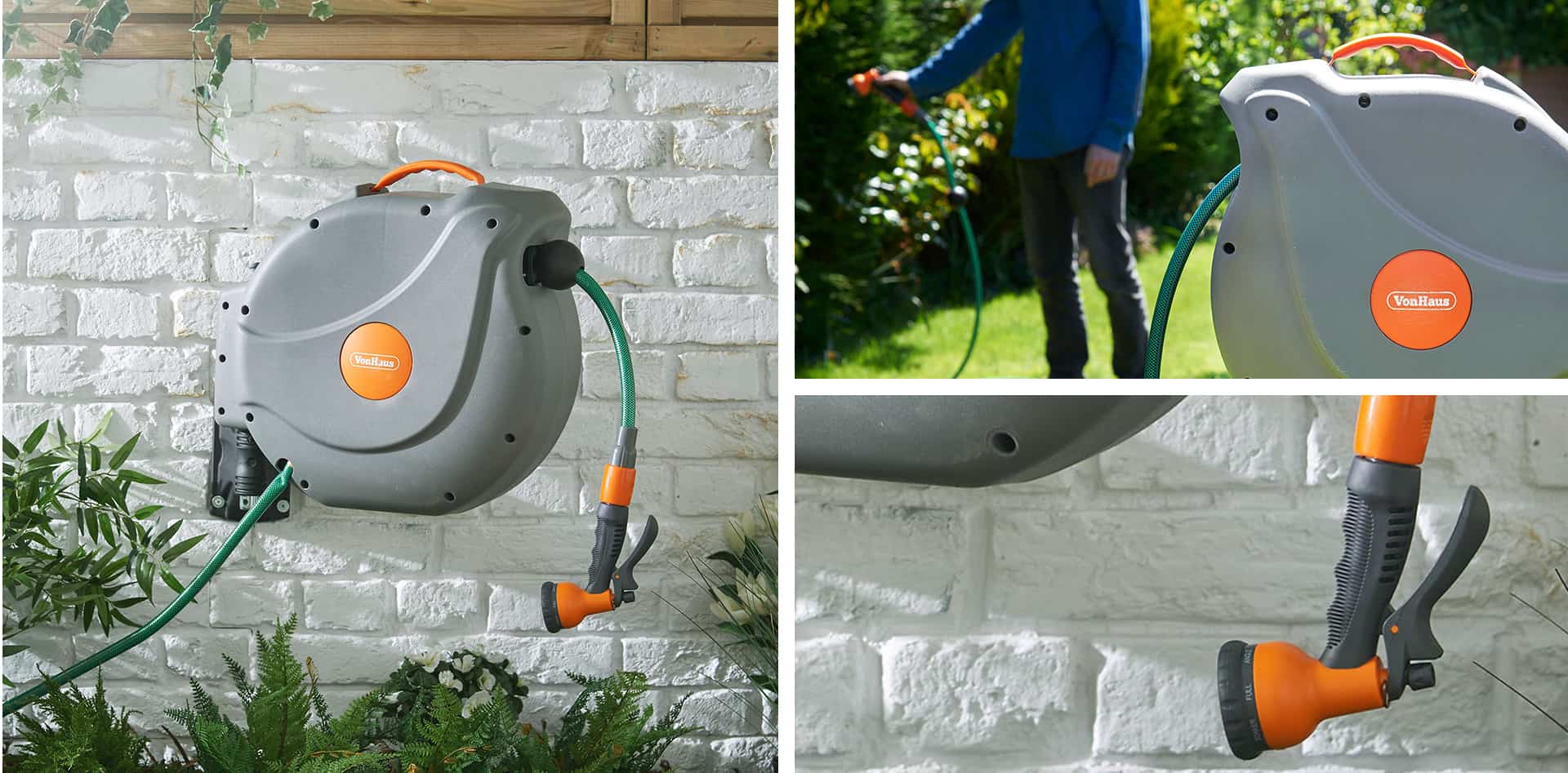 2020-01-30 10:53:00
282 viewed