What items are available to pre-order?
Items that have a pre-order badge and text 'pre-order for delivery on or before #### date' can be pre-ordered and will be delivered to you on or before the date posted on the product page listing.
If an order is placed with the Next Day option on a Pre-Order item, the order will be shipped on a next day service when the stock is available.
Please see an example of a product that is on pre-order: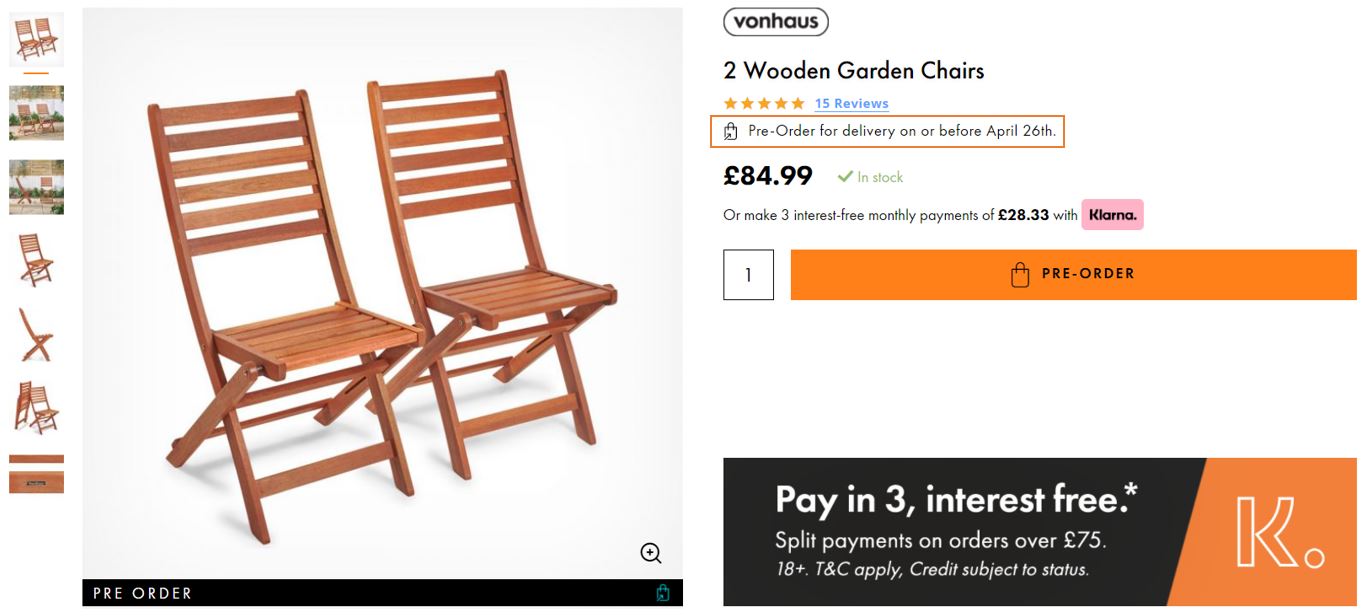 The product I want to buy is showing out of stock, will you be getting any more in?
If the item is live on site with 'Coming Soon', you will have the option to enter your email address for the Notify me when in stock email
We're always expanding our products and ranges and on occasion we may discontinue a product and launch new styles, if you have a question about a product, you can contact our team and we can advise you accordingly on any new stock and arrival dates
Can I get spare parts for my product?
We do not currently have a full parts stocking policy, so we are limited with what's available.
As a guide, we do try and retain functional spares for as long as there is a market for them and in most cases, well beyond.
Due to the vast array of product types and the purchase price, the life cycle of all products can vary and therefore so is the length of time parts are supplied.
If you'd like to enquire about spare parts, you can contact our team and we will do our best to advise you accordingly
How do I care for my Furniture?
Care instructions are supplied with each item and can vary depending on the type of furniture and it's intended use, however, here are our top tips for making sure you get the most out of your furniture and prolong its lifespan
Take care when handling and moving all furniture, always lift to move, do not drag across the floor
Periodically check the fittings and secure as necessary
Avoid environmental damage - sunlight, heat and other environmental factors can damage furniture if left exposed for prolong periods of time
Always use coasters, placemats or trivets when setting glasses, mugs or hot food on tables
A weekly dust will help shift the filmy layer of airborne deposits that build up over time and can scratch the surface of your furniture
Wipe with a dry clean cloth (non-scratching and preferably microfibre) with water and gently wipe the surface. The moisture will collect the dust and prevent any flyaway dust particles. Do not use any abrasive cleaning solvents as this may damage the surface