Buying and selling houses is one of the biggest struggles we face in modern life, and it really doesn't help when we're trying to shift our old home to move on and it just won't budge! We surveyed the nation and found the top 10 features that would turn off a potential buyer in the UK – so, find out what could be devaluing your home without you even knowing here!
Read our top 10 features that can devalue your home, and then find out some quick and easy ways you can make the value of your property skyrocket from our experts at CK Architectural
The 10 ways Brits are devaluing their homes
We surveyed the nation to gain insight into the main reasons why some houses seem to struggle so much on the property ladder, so read on to discover the features that are most likely to turn off potential buyers.
#10 – Not having a bath
You might be really surprised at this one, but it turns out us Brits really love a bath, with nearly 16% willing to walk away from their dream home if it doesn't have a bathtub.
#9 – Dark rooms
Nearly 20% of Brits decided that dark rooms were a definite no-no for them when it comes to buying their new home – we have some tips on how you can improve your space below, so keep reading.
#8 – Stains on the walls
Turns out those food stains on the kitchen wall and the kids' doodles in the hall are definitely not appealing to prospective buyers, with 20% of our survey takers saying they would turn down a house with stains on the walls.
#7 – Lack of storage
Over 20% of our survey takers said that a lack of storage would ultimately lead to them being put off a property, so having somewhere to store your odds and ends will ultimately help your property sell.
#6 – Cracks in the floors
Living somewhere that is structurally sound is important to everyone, but over a quarter of Brits surveyed said that they would walk away from a property if they noticed cracks in the floor - a sure sign that all is not well underneath the surface.
#5 – No garden
At number five on our list, we discovered that prospective buyers are looking for somewhere to put down roots, some literally - around 30% of Brits have their enthusiasm for a house kerbed by the lack of a garden.
#4 – Cracks in the walls
As with cracks on the floors, cracks in the walls are a sure sign that there are structural issues with a home, and this will cause over 30% of our survey takers to strike homes from their lists.
#3 – Bad smell
Unsurprisingly, nobody wants to live in a home where a foul smell lingers! But some smells are terrible enough to turn away nearly one third of our survey takers.
#2 – Damp
Over a third of the Brits surveyed for our research were determined that damp was cause enough to walk away from their ideal home – addressing structural issues is really critical to selling a home.
#1 – Mould
Finally, the number one feature that has nearly 40% of Brits walking away from homes, is actually mould. Yep, nearly half of our survey takers will turn down a house for definite if they spot those pesky mould spots.
How do I increase the value of my home?
So, we've gone through the 10 ways you could be de-valuing your home, but what about ways to increase the value of your home now you know the issues to address? We spoke with experts at CK Architectural, who offered us some amazing insights.
Address structural issues
Five of the items in our top 10 list relate to structural issues – damp, mould, cracks in the floors and walls and bad smells. All of these issues can be related to problems with your building, from the foundations to the brickwork. It's really important to make sure these issues are fixed before putting your home up for viewings – homes without these problems are much more likely to sell, and you're also ensuring that you increase the value of your home. Check out our DIY section if you fancy having a go yourself at any of these projects.
Change your paint colours
With nearly 20% of Brits walking away from homes because of dark rooms, we ultimately recommend using lighter colours in the décor, which work with the layout to create more open and spacious feelings, and this in itself can be a big contributor to higher prices for properties. The value is created in many cases by the people viewing these colours and furnishings just as much as the colours and furnishings themselves. You can grab all the tools you might need for redecorating from our painting and decorating section.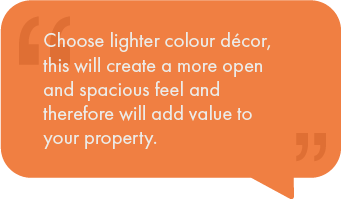 Stage your buyer's ideal home, not yours
Rooms that are created around the image the buyer has, for example, like a family friendly environment for a home they're looking for to bring up their children, or a sleek modern, classy finish for a professional couple who place value in aesthetic; these both mean the buyer is seeing what they want to see and as a result, hold the property to a higher standard. If your home lacks the necessary storage to appeal to a family buyer, you can find perfect storage solutions for every area of your house in our storage section.
Purchase multi-functional furniture
Kitchens are the main selling points of a property along with bathrooms in many cases, as they are the most expensive to change, and the most functionally demanding. That means they're often lifestyle dependent too. Islands and more intricate furnishings certainly help to create value, both in practicality and in social potential, giving multiple functional options for the property. This means that more usable open space, bright colours, and furnishings that complement this general ideology too all contribute to increasing the value of the property. Find the perfect kitchen furnishings to really show off the potential of your house in our kitchen appliances section.
Ensure your bathrooms are neutral
Bathrooms are another prime example of furnishings, and colours have a dramatic impact on the value of a property. Showers and baths in particular of course have the biggest impact on this, but so do things like the sink, the materials used throughout the room, facilities on offer and the overall practicality of the room and atmosphere it creates.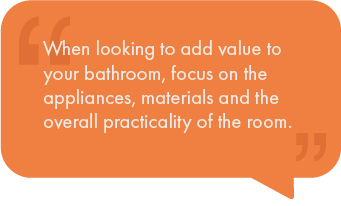 Work with your space
At the same time, furnishings can affect property value negatively, too. It's very possible for them to cause a smaller room to feel cluttered if furnishings are abundant or overbearing, and this can make a big impact on the overall value. Larger rooms may use these same furnishings to fill the space more effectively, but it's all dependent on the overall space itself.
If you're ready to crack on with improving your home and increasing its value, check out our furniture and garden appliances we have on offer; or alternatively, for more interior design inspiration, head on over to our blog.
2021-11-08 08:00:00
0 viewed