The Ultimate At-Home Cocktail Bar Essentials List
Who are we kidding, every season is cocktail season and there really has never been a better time to build your own at-home bar. Free from the stress of trusting someone to get your drink just right and the annoyance of paying £10 for a glass of ice, a home bar gives you full control and freedom to find your new signature drink. It may seem like one simple cocktail takes a whole host of ingredients and tools, but with a couple of essentials, you can make all your favourite classic cocktails with no bother.
For your at-home cocktail bar essentials, here's our easy shopping list...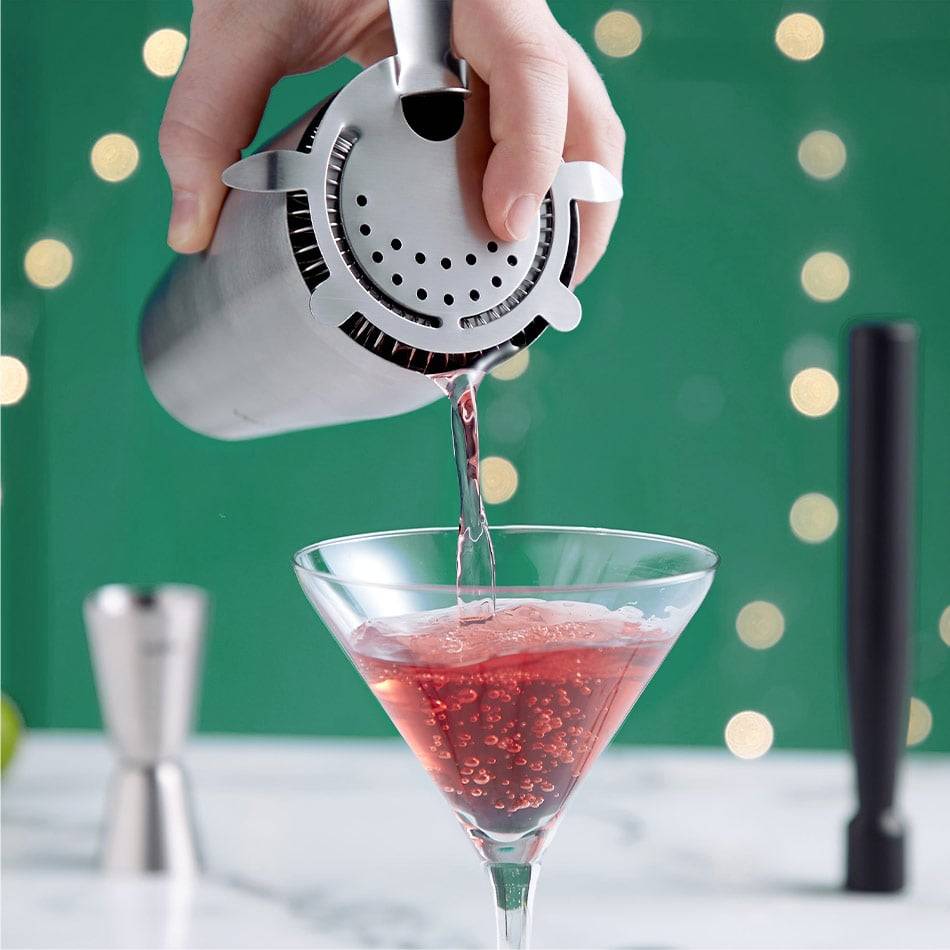 What spirits do I need for an at-home cocktail bar?
A line up of spirits make the basis for pretty much every cocktail you could imagine. So if you stock up on the staples, you're well on your way to a fully functioning home bar. Here are the must-have spirits for any cocktail bar.
Vodka – From martinis to cosmopolitans, a good vodka is non-negotiable for your bar. Arguably the most versatile spirit, vodka will make an appearance in at least one of your favourite drinks so it's worth picking up a nice bottle.
Gin – Alternatively, some people may prefer gin-based drinks so it's good to have the option. Also, every bar should be able to make a perfect gin and tonic right?
Tequila – A necessity for making refreshing margaritas or tequila sunrises, if you prefer more citrusy, fruit-based drinks, a blanco tequila needs to be in your bar.
Rum – If you want to really level up your evening drinks, a good bar should feature two different kinds of rum. For mojitos or daiquiris, you'll need a light rum. But for more tropical or tiki cocktails, a dark spiced rum will level up the flavours.
Whiskey – For fans of heavier, neat drinks, a classic whiskey should feature. The type of whiskey is totally up to you and your personal taste, but a bourbon would be our recommendation for versatility.
What liqueurs do I need for cocktails?
While they're not essential, a fair amount of cocktails require liqueurs to allow you to get the true authentic taste. There's a whole host of fruit-based liqueurs you could get carried away with, but here are the most used.
Amaretto – Letting you make sweet and rich cocktails, amaretto is a great liqueur to have on hand, perfect for drinking with a simple mixer as well as making full-flavour amaretto sours.
Coffee Liqueur – An espresso martini sounds good right about now, doesn't it? A coffee liqueur will make the whole process far easier and open up a whole new world of coffee-infused cocktails.
Vermouth – Technically not a liqueur, but treated like one, vermouth is the thing that will bring those rich, herbal flavours to your drink. A must for neat cocktails like Negronis and Americanos, pick up a bottle if you've got a taste for stronger tipples.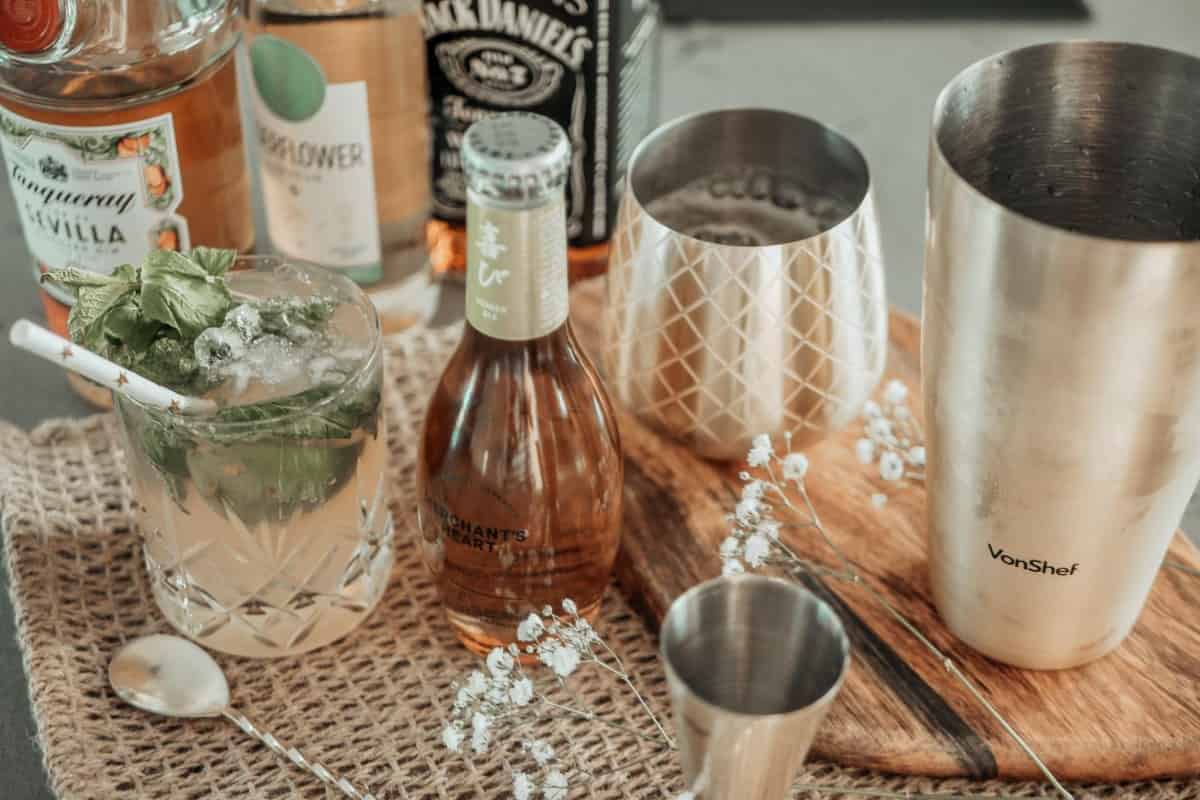 What mixers do I need for a home bar?
Totally dependent on your favourite drinks, there are some staple mixers that'll you'll likely need or want. Our at-home cocktail bar shopping list for mixers looks a little like this:
Tonic – Not only good with gin, tonic is a versatile mixer that works with simple spirits or as a spritz in a cocktail.
Fruit Juice – From tequila sunrises to classic cosmos, a good lineup of fruit juices including orange and cranberry will always come in handy.
Sugar Syrup – Not technically a mixer, but a simple sugar and water syrup is ideal for sweetening drinks to taste.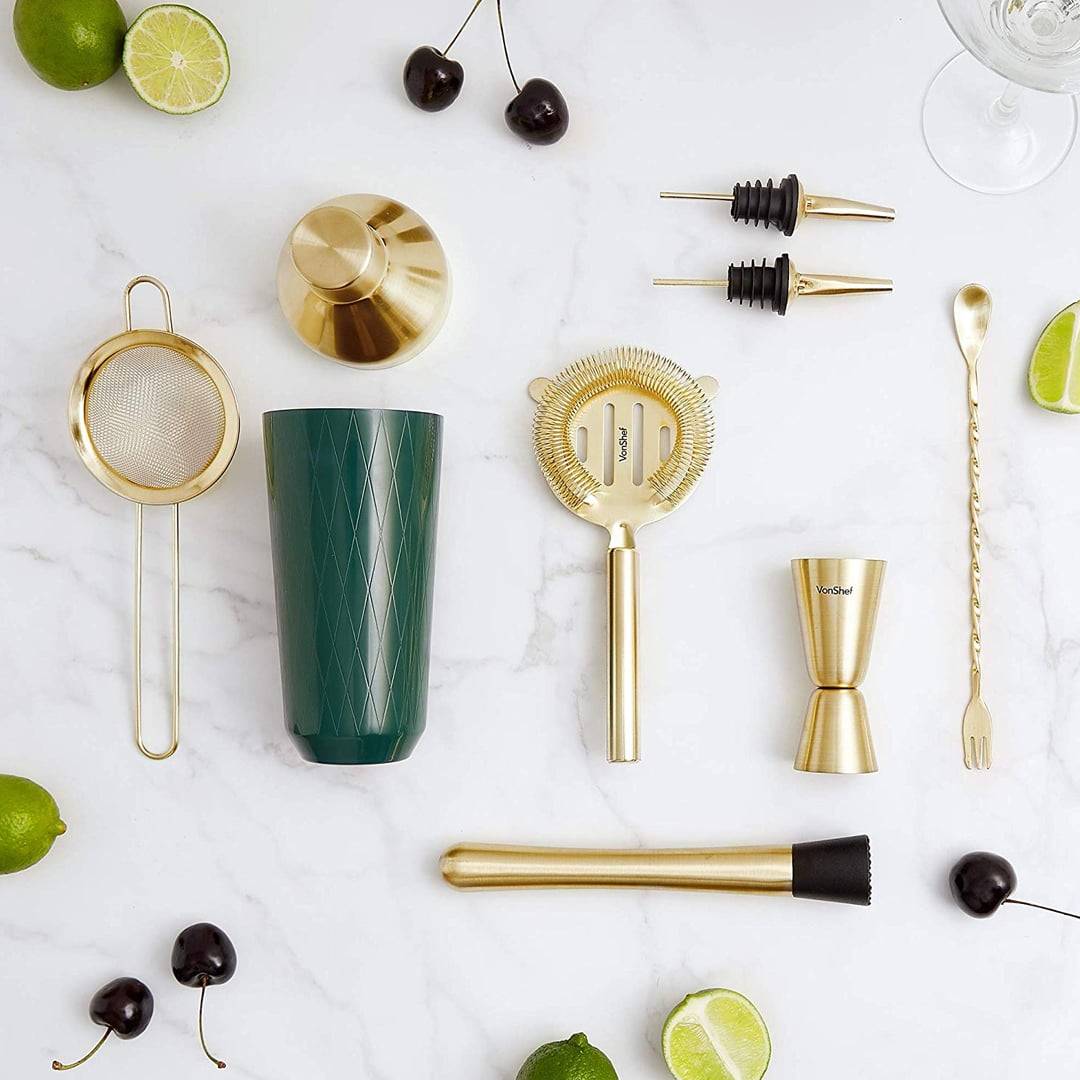 At Home Cocktail Bar Must-Haves
Ingredients change from drink to drink, but when it comes to tools and finishing touches, there are some must-haves that no at-home cocktail bar can be without.
A cocktail set – We could get into the particulars of the specific type of stirrer or strainer you might need, but a reliable cocktail kit will set you up will all of this. Including a shaker, stirrer, strainer, and jigger for measuring out spirits, these are the necessities for getting bar-quality cocktails at home.
Ice – You'll need it for everything, every bar needs a lot of ice. If you're planning on becoming the ultimate host, an ice maker wouldn't go a miss, or an ice bucket will do for an evening of entertaining.
Plenty of glasses - It may seem like a silly little detail, but the right glass can make all the difference in how your drink mixes. Any good home bar should have a range of martini glasses, long highball glasses and short tumblers to suit each drink.

2020-11-02 12:15:00
0 viewed