Most searched for products of 2021
Over the last year, we've lived through one of the biggest events of most of our lifetimes, and this definitely shows in our purchasing history over 2021. People were spending significant amounts of money on improving their home environments as we moved away from the office and started to spend a lot more time in our houses. This was reflected in the sell-out of paddling pools, the abundance of houseplants, and most interestingly of all, some pretty unusual home items.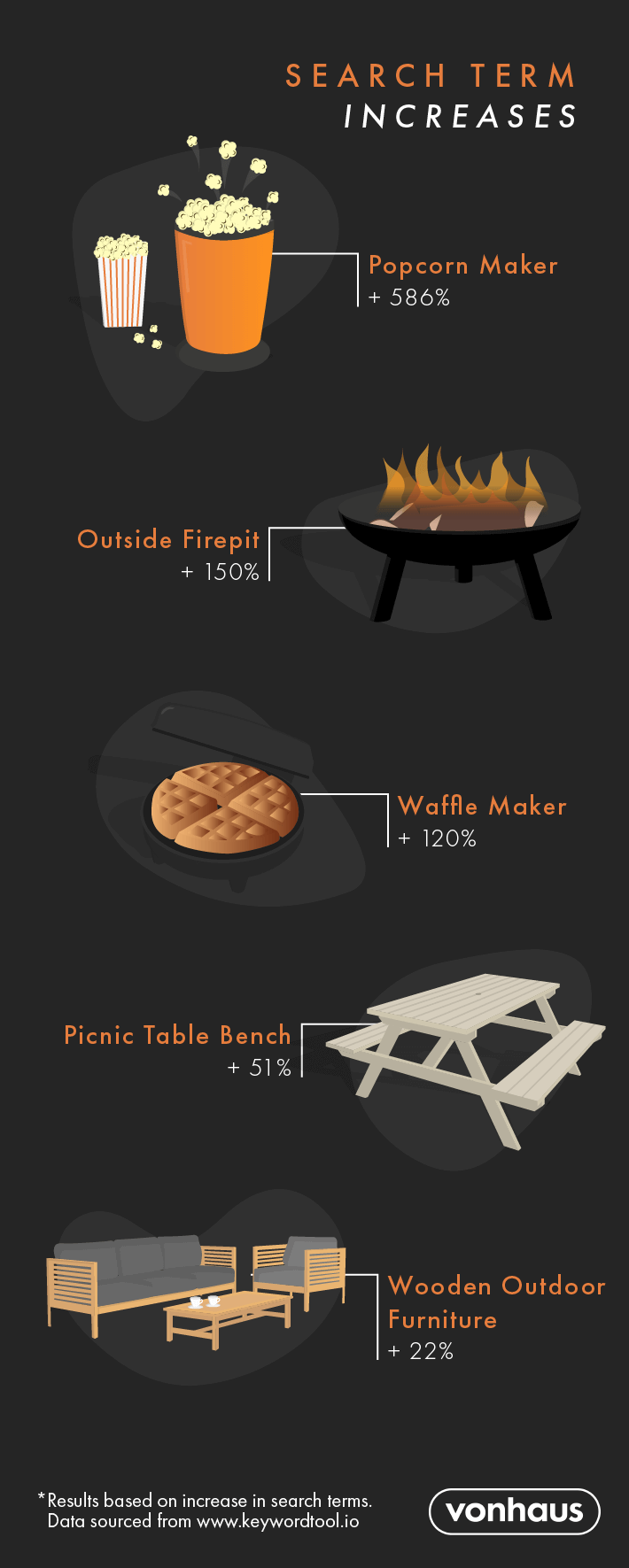 Most popular items we searched for this year
We scoured UK search data to find out what the most popular products of 2021 were, which included some really interesting and surprising gadgets.
They seemed to follow the flow of the UK lockdown, from the different waves of lockdowns that happened to the different trends that took the country by storm, including TikTok hacks and recipes and how to holiday in the UK over summer.
Unusual kitchen items
People seemed to find a renewed love for cooking and baking at home during the lockdown, with some of our most popular products being cooking gadgets.
With more time at home to cook fresh meals and less access to eating out, a lot of us decided to get creative, and this led to some rather interesting purchases.
Search data that we gathered from Keywordtool.io shows that searches for 'popcorn maker' were up by 586%, 'sandwich toast maker' was up by 150% and 'waffle maker' was also searched for 120% more across the year compared to the year before.

Picnic items
Picnic items did very well this year – the change in lockdown restrictions meant that people were spending a lot more time having picnics outdoors with the lack of restaurants and social distancing rules still in place.
Our keyword search data shows some serious interest - 'picnic table bench' saw a 51% increase, while 'picnic glasses' went up by 50% and 'picnic table cover' also up 50%.
The preference for al fresco dining and relaxing does reflect well in the keyword data search though, with 'outdoor furniture stores' seeing a rise in searches by 1275%, 'outdoor furniture covers' by 38% and 'wooden outdoor furniture' by 22%.
Heaters
Heaters are frequently one of our customers' favourite items here at VonHaus – probably down to their high quality and great performance – but these really performed well during the last year, particularly thanks to the cooler autumn we've had and the surprise snow that happened right at the start of the year.
The energy crisis has also made a lot of people conscious of their heating usage and purchasing electronic and fan heaters can be a much cheaper alternative to gas heating.
This trend of wanting to be cosy at home also seems to have extended to the garden according to our keyword search data, which saw 'outside firepit' searches increasing by 150% and 'firepit garden furniture' also seeing a spike with 46% more searches this year.
Our conclusions
These trends that we've uncovered from the search term data we gathered from Keywordtool.io seem to closely follow the waves of activity we saw throughout the pandemic.
The year began with the country still in the throes of a full lockdown, and with so much time at home, many of us turned to our kitchens to create comforting favourites and try exciting new recipes, which is reflected in the uptick in searches for unique kitchen gadgets.
Then, as the warmer weather began to arrive and we had longer, hotter days as summer approached, there was a lot of increased interest in getting outdoors, and finally meeting our friends and family and spending time together outdoors where it was safer to do so.
This certainly correlates with the increased searches for picnic gear, from tables, to blankets, and basket sets.
Now, as the year draws to a close and the colder weather encroaches once again, the focus is shifting to how to make our houses cosy and warm –we saw several people trying to extend the summer feeling by investing in firepits and firepit furniture from our keyword search data.
Whatever 2022 holds, at least we know we'll have enough kitchen gadgets, heaters, and garden furniture to keep homes happy!
Check out some of the most popular items on our website, and find out more about home and garden living from our blog.
2021-12-13 13:58:00
0 viewed