One-pot wonders: 12 easy slow cooker recipes
Slow cookers are incredibly nifty gadgets that create tantalising dishes with zero fuss and minimal prep. You can pop in the ingredients before work and have some delicious crockpot cuisine ready by sundown – no slaving over the stove here!
As the sun sets on summer, we're serving up a menu of nourishing one-pot wonders to warm your belly, from family-sized crockpot curries and casseroles to some of our best-kept secrets – we're looking at you, Coca-Cola ham!
You can also make any of these delicious crockpot recipes into vegan dishes by replacing one or two ingredients – ideal if you're catering for meat-free pals or dipping your toe into veganism.
And if these slow-cooked favourites whet your appetite, why not indulge in some afters with some easy dessert recipes?
Bon Appetit!
1. Mustard and Pepper Beef Stroganoff
Beef Stroganoff— the ultimate comfort food. To make it, we sauté tender strips of beef and mushrooms in butter, then swirl with crème fraîche, brandy, mustard, and Worcestershire sauce to produce a warming, creamy sauce.
1 tbsp. mustard seeds, roughly crushed with a pestle and mortar

800 g stewing beef or shin, cut into 5cm pieces

100 -125g unsalted butter

2 onions, sliced

2 garlic cloves, crushed

50 g plain flour

450 ml beef stock

225 g chestnut mushrooms, sliced

60 ml brandy, optional

200 ml crème fraîche

2 tbsp. Dijon mustard

2 tsp. Worcestershire sauce

2 tbsp. chopped fresh tarragon or parsley
Calories per serving: 843

Servings: 4

Prep time: 20 mins

Cooking time: 10 hrs 25 mins

Total time: 10 hrs 45 mins
Mix the mustard seeds and seasoning in a bowl. Add the beef and toss to coat. Heat 25g butter in a large frying pan over medium-high heat. Fry the beef in batches (adding more butter as needed) until browned all over. Place the browned beef on a plate lined with kitchen paper.

Add onions to the pan and fry for 5-8 minutes until they start to soften – you may need to add more butter if the pan gets dry. Add garlic and cook for 1 minute before stirring in flour and cooking for a further minute. Take the pan off the heat and gradually stir in the stock, adding the liquid bit by bit little to prevent lumps.

Place the beef and onion mixture into the slow cooker and mix (don't worry if there isn't much sauce yet as the liquid will be released during cooking). Cover with the lid and cook on low heat for 8 – 10 hours.

Around 45 minutes before the end of cooking, melt the remaining 50g butter in the frying pan and fry the mushrooms over medium-high heat for 5-10 minutes until tender.

Add the brandy and bubble to reduce until only a little liquid remains. Remove a cupful of the cooking liquid from the slow cooker and set aside, then stir the mushrooms into the beef

Mix the reserved cooking liquid with the crème fraîche, mustard and Worcestershire sauce. Stir into the beef, then re-cover and cook for 30 minutes. Finally, stir in the tarragon or parsley and serve.
Calories: 843

Protein: 61g

Total fat: 56g

Saturates: 32g

Carbs: 19g

Total sugars: 7g

Fibre: 3g
2. Chipotle Chicken
Bathed in aromatic Mexican spices for that distinct smoky heat, our spicy chipotle chicken crockpot uses olive oil and lime juice to tenderise the meat, producing a mouth-watering dish for any occasion. If you prefer a more traditional stew-like consistency, add an extra 150ml stock to the slow cooker at the beginning.
Chef's tip: It works brilliantly well in wraps, too!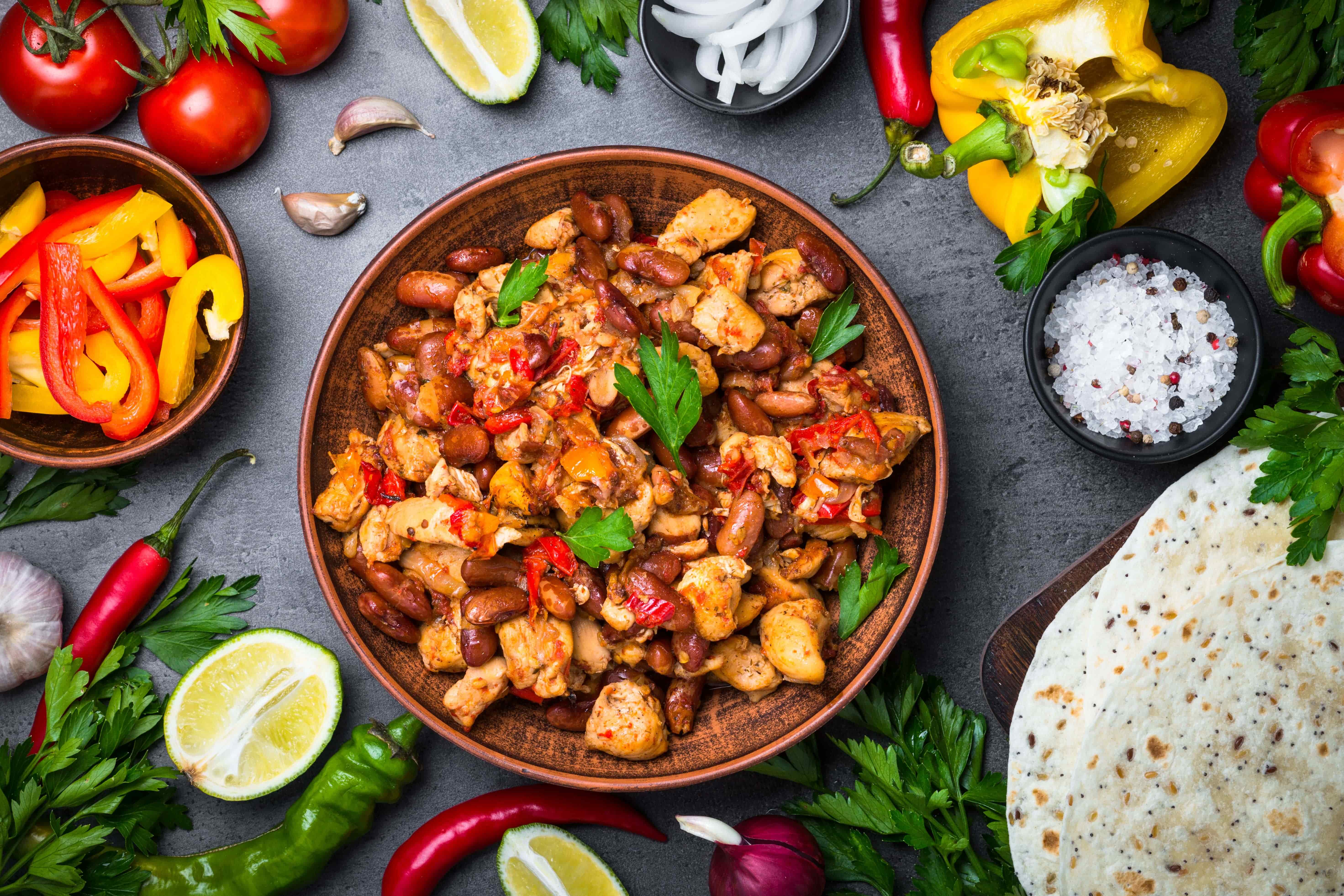 1 tbsp. vegetable oil

2 red onions, sliced

3 garlic cloves, crushed

1 tsp. smoked paprika

2 tsp. ground coriander

2 tbsp. tomato purée

1-2tbsp chipotle paste, to taste

2 mixed coloured peppers, finely sliced

400 g tinned black beans, drained and rinsed

400 g tinned chopped tomatoes

4 tbsp. chicken stock or water

800 g chicken thigh fillets

Juice 2 limes

Large handful of fresh coriander, roughly chopped (optional)
Calories per serving: 338

Servings: 6

Prep time: 15 mins

Cooking time: 6 hrs 20 mins

Total time: 6 hrs 35 mins