When you imagine a celebrity's home, do you picture it with all sorts of different luxury rooms inside? A cinema, an indoor swimming pool, a huge walk-in wardrobe, maybe even a private gym? These types of luxury rooms have been exclusively for the rich and famous who could afford them… until now.
More and more of us are seeking to add these luxury rooms to our own homes, so we decided to take a look at the most desirable property features in the United Kingdom to find the nation's favourites.
With our detailed top tips, as well as comments from Gemma Caulfield (Residential Branch Manager & Senior Valuer at Bramleys) on how to create your own luxury room, you'll be all set to recreate your favourite cinema room or home office as soon as you're finished reading!
What is a luxury room?
A luxury room can be defined as a custom space in your home that is neither necessary nor basic e.g., a bedroom, living room or kitchen. They tend to be viewed as novelty spaces that accommodate personal hobbies and create a statement, making your home stand apart from others.
Luxury rooms tend to include home cinemas, personal gyms, home offices, indoor swimming pools, and walk-in wardrobes, and their addition is becoming more common and sought after in British homes. But can these spaces really bump up the price of your home?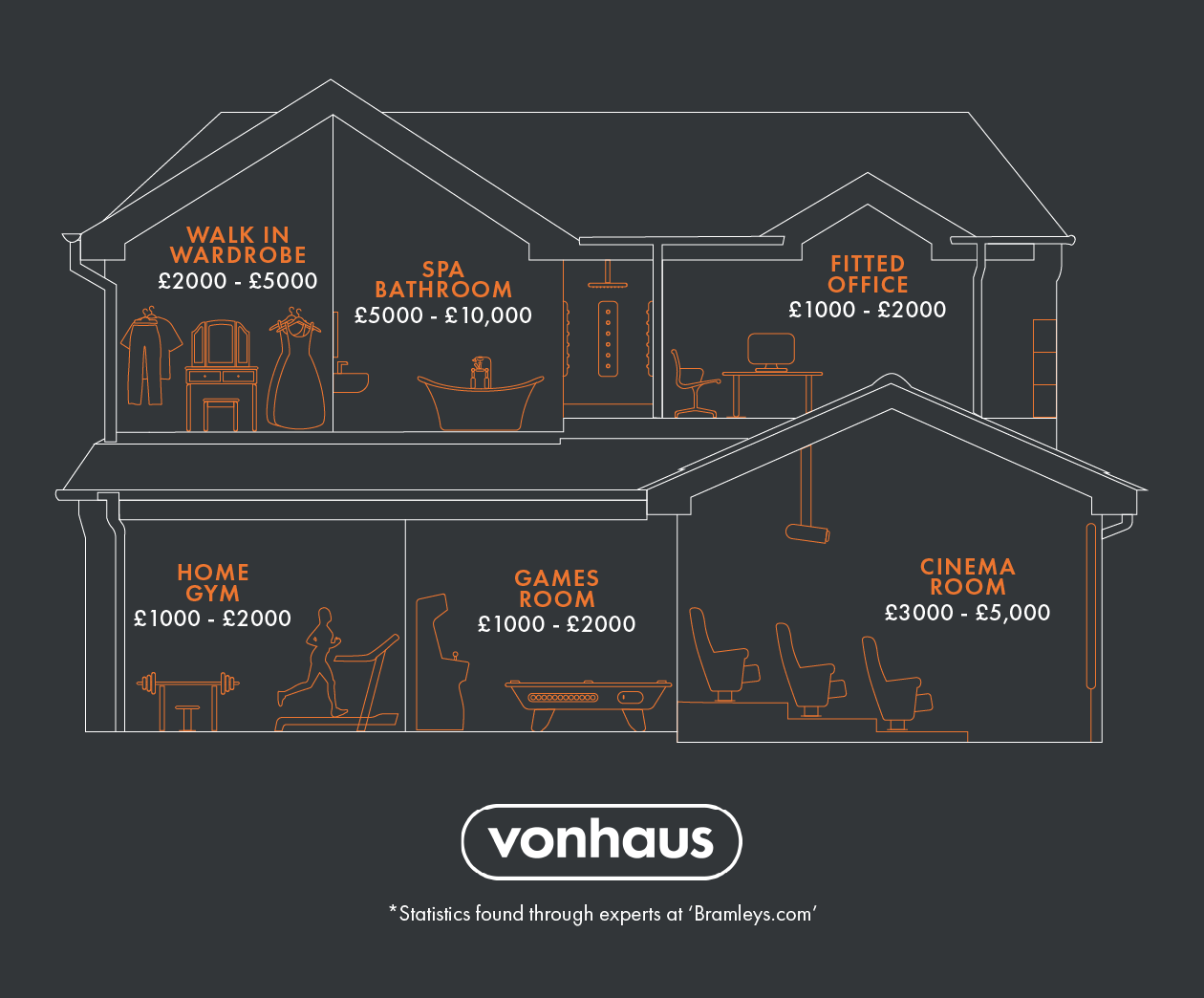 Can a luxury room add value to your property?
Different spaces come at different costs, but you'd be surprised to find out just how much value various luxury room types can add to your property. For example, the addition of a walk-in wardrobe is so sought-after that property hunters are willing to pay an extra £2,000-£5,000 for it. Each of these luxury room additions could add significant amounts to your property:
Walk-in wardrobe
A walk-in wardrobe is an excellent addition to a master suite and creates an executive and premium feel to the room. It helps to streamline your space and remove clutter and is a great novelty when selling your home.
Added value: £2,000-£5,000
Fitted office
The need to work from home has become essential for many people over the last couple of years. Homeowners/renters have been transforming unused small bedrooms/reception rooms into permanent office spaces with typical office furniture such as desks and bookcases or considered upsizing to accommodate the new normal.
A fitted office is beneficial for people who will be working from home indefinitely, however, a more freestanding, versatile office can also benefit those who may wish to change it back into a bedroom at a later date.
Added value: £1,000-£2,000
Luxury spa bathroom
Bathrooms sell houses, and the more attractive they are, the more desirable they become to prospective purchasers. The addition of a top-quality bathroom with spa features such as air-bubble freestanding tubs, steam showers and Bluetooth speaker shower heads could bump the cost of your house up significantly.
However, a bathroom is a bathroom, so it is important not to overspend. Simply adding more storage to your bathroom with cabinets and towel racks can almost immediately add more luxury to your bathroom.
Added value: £5,000-£10,000
Cinema room
Having a cinema room is a premium attribute in a home, but can easily be created with a large TV in a reception room. The key to a good cinema room is versatility, so ensuring it can be easily transformed back into a snug or sitting room when you need/want it is essential.
Added value: £3,000-£5,000
Gym
A room such as a gym can be used for so many different reasons, so it really depends on a buyer's wants and needs. Gym equipment isn't a permanent fixture, which can improve desirability; when removed, the room is empty again. Even better, you can keep equipment safe in the garage or a garden shed.
Added value: £1,000-£2,000
How to create your own luxury room
If you are looking to create your own luxury room in your home, here are some of our top tips to make your space look luxurious, whilst also holding onto its sale value:
Keep in mind the market you want to appeal to. If you know you will be looking to sell your home in the near future, you might want to hold off on kitting your third bedroom out with a fitted office!

If you want to create a luxury room in your house, such as a home office or personal gym, you don't have to spend lots of money. You can look at sale items or even use second-hand equipment from eBay or Gumtree.

You can create a home cinema room easily by painting a large wall in stark white and installing a projector on the opposite wall – your living room can transform easily into a home cinema room at the push of a button!

Upcycle a chest of drawers or purchase a new dressing table for the spare room to create a stylish walk-in wardrobe space.
Could your spare bedroom be better used as a hobby room or home gym? Hopefully, these tips and tricks can help you transform those underutilised spaces in your house into the type of luxury rooms that can benefit your life - and also your pocket! Or for even more home insight and advice, check out our blog.
2022-01-24 08:34:00
0 viewed