How to find the most energy-efficient electric heater
Amid soaring energy prices and the shift to home working, heating costs and energy efficiency have never been more important.
But keeping your home toasty-warm when the cold weather bites might be easier – and cheaper – than you think.
From oil-filled radiators to traditional stove heaters, this article sheds light on each model, helping you find the most efficient electric heater for your needs.
What are the benefits of electric heaters?
Electric heaters have several benefits; the main ones being they're cheaper to run and more efficient than traditional boilers.
Electric heaters are safe and eco-friendly, too, as they don't burn materials or release carbon dioxide. And with no moving parts, the likelihood of a system breakdown is minimal – making them a smart, long-lasting heating solution.
The key to utilising an electric heater is striking a balance between comfort and cost – and we're here to help you do just that.
We'll start by outlining each type of heater before reviewing some key purchasing considerations, like oscillation, noise level and portability.
So, without further ado, let's find the best heater for you!
Types of heaters
Portable heaters
Portable heaters strike the perfect balance between comfort and convenience, and there are types to suit every lifestyle and budget.
Available in various shapes and sizes, portable heaters make it easy to find the perfect fit for any room. Here at VonHaus, we stock a vast range spanning classic to contemporary, so you're sure to find one that complements your décor without breaking the bank.
Stacked range aside, portable heaters offer unrivalled efficiency, letting you heat one room to a comfortable temperature without wasting money and energy heating the whole house.
Most models also include attachable wheels and programmable settings, so moving them from room to room is 100% hassle-free!
Oil-filled radiators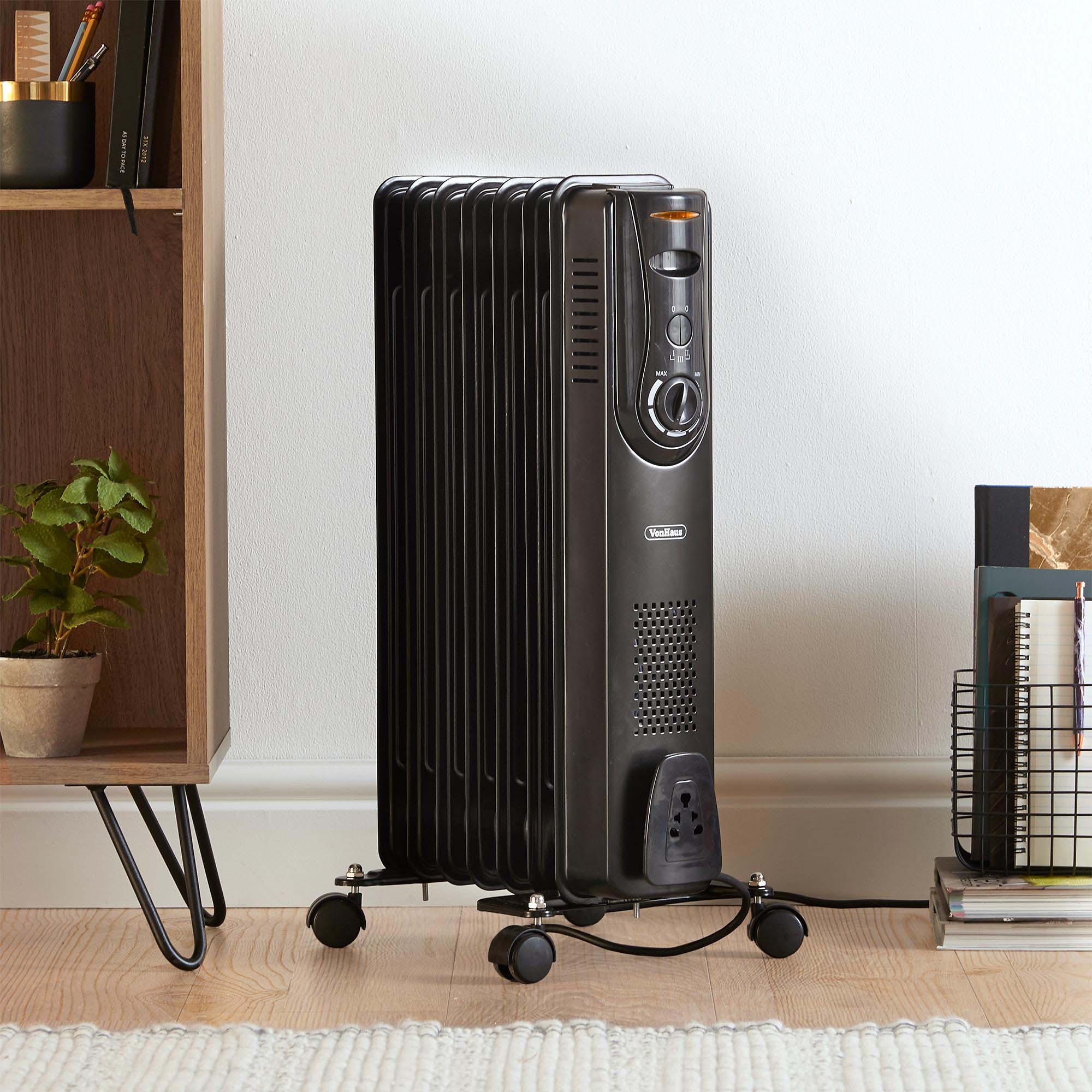 Oil-filled radiators are ideal for quick, hassle-free heating in rooms without a full-size radiator.
They're pricier than fan heaters and take a little time to warm up, but their heat-holding properties keep the room warm and toasty long after they're switched off.
Most include adjustable thermostats and heat settings, too, so you can set the temperature exactly how you like it.
Oscillating heaters
We've all been there – wrapping ourselves in blankets as we wait for the heating to kick in, shivering and cursing the cold. The solution? An oscillating heater.
Oscillating heaters send electricity through ceramic plates, rapidly warming the room in a few short minutes. Meanwhile, their oscillation function provides even heat distribution throughout a room – eliminating those pesky cold spots!
These benefits, coupled with their whisper-quiet operation, make them a standout option for a quick, cost-effective heating solution. Bear in mind that they lose heat rapidly after being turned off – but this mechanism keeps costs low.
Convection heaters
Convection heaters produce heat via convection, warming the surrounding air to a comfortable temperature.
Available in floor-standing and wall-mounted models, they heat small rooms with maximum efficiency while providing a valuable heat source for areas requiring occasional warmth, like the hallway or spare bedroom.
All in all, convection heaters are quiet, affordable, and offer complete temperature control via adjustable settings, making them excellent energy-efficient heaters for your home or office.
Fan heaters
Fan heaters provide quick bursts of warmth, making them ideal backup heaters – especially if your central heating system takes a while to warm up.
Their relatively cheap to buy thanks to their simple build, and they tick all the right boxes when it comes to energy efficiency, rapidly converting input energy into useful heat.
Fan heaters are best suited to occasional use, as they're more expensive to run than fuel-powered heaters – a fact further compounded by rising energy costs.
Halogen heaters
Instead of coils or heat conductors, halogen heaters radiate heat via halogen bulbs filled with gases plugged into an electric current.
Halogen heaters are typically used for outdoor areas like terraces and patios due to their capacity to generate rapid, intense heat. But given their lightweight portability and eco-friendly credentials, many use them as supplementary home heaters, too.
One caveat: while halogen heaters are cheap to buy and run, they pose a fire risk and aren't suitable for large rooms, so never leave one unattended.
Stove heaters
Electric stove heaters are 100% energy efficient, and unlike gas and solid fuel burners, you lose no heat through the chimney. All the energy that powers the stove emanates warmth into your room.
Mimicking the look and feel of traditional wood burners, stove heaters make a stunning focal point without the smoke-related health risks posed by wood burners. And thanks to their cosy-fire effect, you can use them all year round without emanating heat – a perfect, cost-effective centrepiece.
Plus, they're ideal for installing below a wall-mounted TV, as there is considerably less damage risk than the intense heat emanated from real log burners.
Stove fans
Stove fans are self-fuelled and practical, utilising heat via induction. No batteries or power sources are required, so they'll increase your stove's productivity with zero outlay.
With their near-silent operation, stove fans evenly distribute warm air around your home, eliminating excessive hot and cold spots, as measured by their cubic airflow.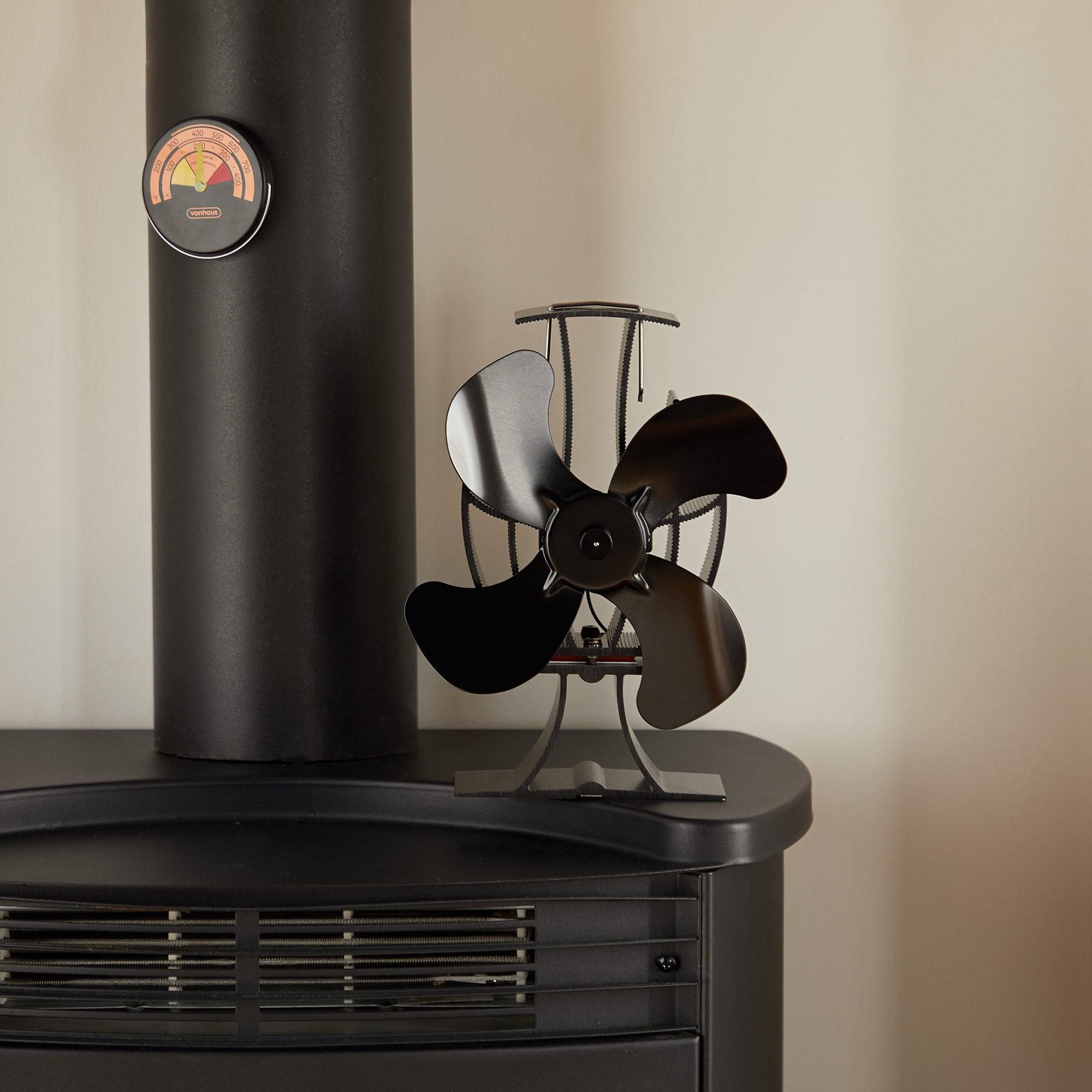 Heated blankets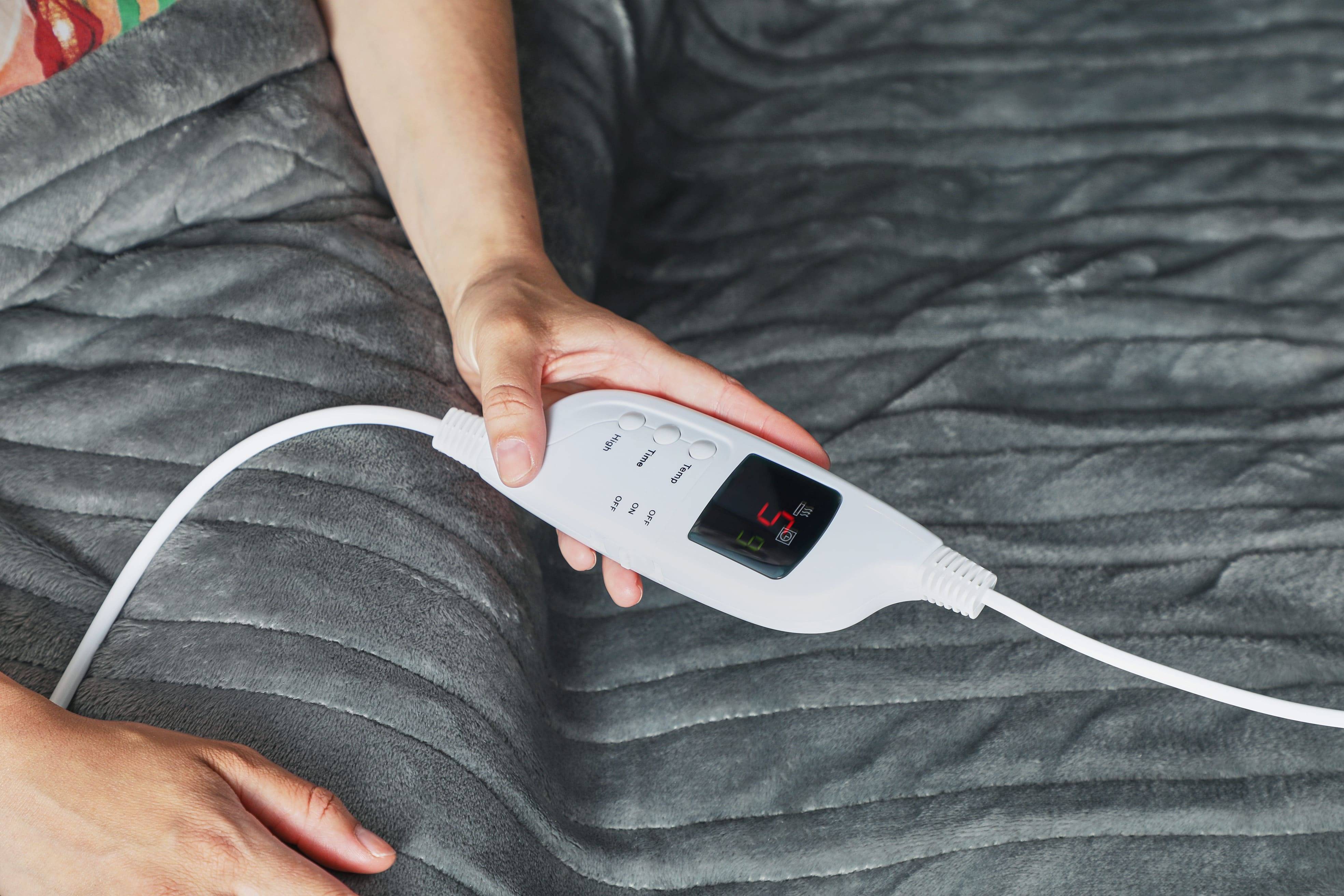 When the mercury drops, heated blankets are cosy, energy-efficient additions to your bedspread. They're typically much cheaper to run than standard heaters, and most include temperature control, allowing you to adjust the dial to your desired temperature for a warm, comfortable night's sleep.
Things to consider when buying an electric heater
Oscillation
Heaters with an oscillating function evenly distribute heat, making them ideal for warming large rooms.
Timer function
A programmable timer lets you automatically activate and shut down your heater – ideal on frosty mornings or after a long workday. This function is also beneficial if your heater takes a while to warm up, as it slashes waiting time and provides heat exactly when you need it.
Frost protection
A heater with frost protection emits low-level heat when the temperature drops to a specified level. This feature is essential to combat frost and dampness in areas like the garage or conservatory.
Power output
If you're looking to heat a small room, go for a heater that uses less energy. For larger spaces, you'll need a model with at least 2kW of power.
Portability
If you'll frequently move your heater from room to room, ensure it includes wheels and a handle. Consider its weight, too, and ensure it's easy to lift.
Adjustable thermostat
Adjustable thermostats allow you to maintain your desired temperature. Once reached, the power is either cut or reduced before reactivating when the temperature falls below the set level – an excellent energy saver.
Energy price cap increase
In October 2022, the UK energy price cap increases to 10.33p/kWh for gas and 34.04p/kWh for electricity, forcing many of us to reconsider how we heat our homes.
But how much can you save by choosing an energy-efficient heater over your central heating?
Well, we've done the maths; here's how much a fan heater and boiler system will cost you to run continuously for an hour after the price cap increase:
Energy calculator
You can use this energy calculator to get a rough idea of your heater's running costs. However, you should check your current electricity bill for an exact rate.
Energy input (kW) x pence per kWh = running cost
2kW Fan Heater
2kW x 34p/kWh = 68p per hour
24kW Boiler System
24kw x 10p/kWh = £2.40 per hour
What is the most energy-efficient heater?
The most energy-efficient heater depends on your needs. Ideally, it's best to use an electric heater as a secondary or supplementary heat source due to its quick, intense heat generation.
But if you take one thing away from this blog, it's this:
Electric heaters are best used intermittently and eliminate the need to activate your central heating, which wastes energy – especially in small areas.
Cost is a critical factor, too.
Electricity is more expensive than gas, so electric heaters cost more in the long run. However, when used sparingly, they'll heat your space in no time – without resorting to central heating.
---
Now you know the ins and outs of each type of heater, how they work and where they're best used, you can choose the best one for your needs.
And if this was helpful, head over to our blog for more buying guides, lifestyle hacks, and interior inspiration. We'll see you in the comments!
2022-03-15 09:52:00
0 viewed