9 dinner party ideas to enjoy food with friends
There are probably no two words more stressful to a novice cook than 'dinner party.'
But in many ways, it's a rational fear: you're cooking up large batches from an ambitious menu, the sorbet's just collapsed, and your hungry guests are due any minute – but you're still fumbling with the canapés!
To quote Nigella, the undisputed queen of fine cuisine and entertaining: "You're making people feel welcome in your house; you're not putting on a show.'' Wise words indeed.
So, take a deep breath and relax, because we've got a whole host of tips, tricks, and menu hacks guaranteed to make your next dinner party a showstopper, whether you're planning a bit of food with friends or a swanky soirée.
We'll start with some dinner party ideas to get you prepped, before serving up some delectable dinner party recipes for different diets, tastes, and occasions – most of which are ready in under an hour flat!
Now go—eat, drink, and be merry!
Dinner party ideas
1. Draft a dinner party plan
First thing's first: try to remember that this is food with friends – no need for Michelin star service here. But let's imagine you're having a large group of pals over.
To keep things on track, draft a rough schedule to estimate how long you'll need on each course. It's best to tackle any tricky procedures earlier in the day (or the day before) because one, you'll clarify the finishing touches you need to make, and two, you'll be free to focus on your guests.
If it's a more intimate gathering, your friends will likely join you in the kitchen for drinks and nibbles, and they might even be handy with a spatula – if so, don't say no!
Your dinner party plan should also include the dishes you'll delegate to guests, but more on that in tip #4.
3. Prep the fruit and vegetables in advance
Some food must be served fresh – especially when the texture is paramount, like with crunchy vegetable sides. In these cases, it pays to wash and prep your veggie sides ahead of time.
If you're using produce prone to discolouring (e.g., apples), pop it in the fridge and cover it with a damp paper towel to keep it fresh and crisp. For shop-bought marinade, give the jar a quick shake so you can just pour it over and toss the salad before serving.
4. Ask each guest to bring a dish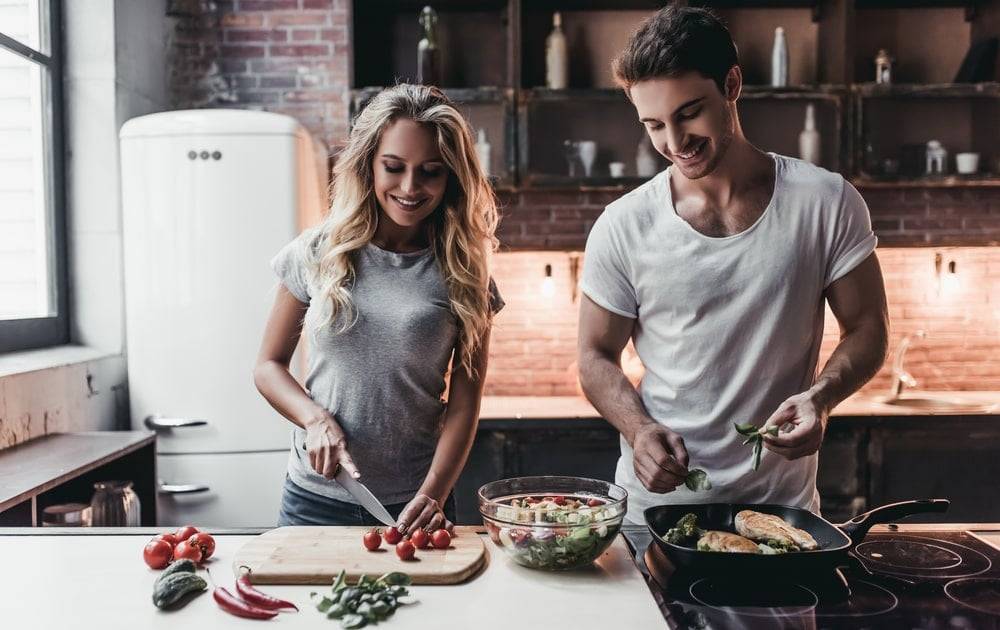 Without delegating a dish to each guest, the table can descend into a carnival of camembert wheels and grab bag crisps. Great stuff, but in moderation.
But to serve up a smorgasbord of delights, you'll need to be explicit with your dish requests. Don't worry about sounding demanding – remember, they're your pals, and besides, it's practical.
To delegate, send a few simple text requests – a bottle of wine here, a loaf of tiger bread there – whatever you need to keep your dinner party on track and on theme.
You can get creative on the night, too. For instance, if you're not handy with your new electric carving knife, crowdsource to find out who is – it'll likely spark conversations leading to other topics, a perfect dinner party foil.
So, remember, involve everyone in your dinner party, from sourcing snacks to helping in the kitchen, as it's a sure-fire way to get guests mingling, and it takes the strain off you, too!
5. Balance your dishes
Variety is the spice of life, so embrace a mixed menu with different ingredients! It doesn't have to be complicated; just try not to use the same ingredients across all your dishes. Meanwhile, keep a selection of light bites on hand to balance your menu and refresh the palate.
Mix it up with a mezze spread
If a strict three-course affair keeps you chained to the stove, flip the script by serving a mezze-style spread.
Mezze (meaning 'taste' in Persian) is a selection of small dishes served as appetisers, blending the appetisers into the main. Eating this way sets the tone for a relaxed evening of endless grazing, sharing, and sparking conversation. Plus, the sheer variety provides scope for different diets, so no one misses out on your scrumptious starters!
6. Prepare plenty of nibbles
There's little more inviting than dressed table packed with nibbles – think green olives, cheeses, tasty dips and rustic bread. These light bites break the ice, stop hunger pangs and prevent drinking on an empty stomach – the last thing you want before you've even made it out of the kitchen!
7. Stick to a simple menu
If you're happy gambling on an ambitious; potentially subpar menu, be bold and go for it! But if you're less experienced, it's best to serve a dish you can nail every time, whether that's your renowned roast or a simple spag bol. Often, it's the simplest dishes that satisfy most – and when the chef's happy, so are the guests.
8. Sharing is caring
The laden dining tables of glossy magazines are not a dinner party pre-requisite. So instead of aiming for table-scape heaven, try a pared-back table layout that encourages sharing and chatter.
Stacking plates next to the nibbles, arranging glasses around the wine bottles and popping cutlery in a jar to pluck from creates a convivial atmosphere and gets everyone talking. And while it may seem counterintuitive, the more movement at a dinner party, the less stiff the evening – so don't be afraid to mix it up!
9. Dinner party drinks
A quick rule of thumb for dinner party drinks: one bottle of wine per person, plus two to greet your guests on arrival. While this sounds like a one-way ticket to a migraine, it's always better to have more than you need – plus, it saves you dashing to the shop mid-meal!
Drinks for non-drinkers
Most vino-loving hosts know how to keep the wine flowing, but often overlook drinks options for the teetotallers and designated drivers.
You could of course request your guests bring their own bottle, but for extra brownie points, consider whipping up a round of mocktails. Not sure where to start? Our tantalising mocktail recipes have all you need to shake things up without booze.
Easy dinner party recipes
Now you're fully prepped for your guests, it's time to serve up the menu! Browse our delicious and easy dinner recipes below, from simple-to-make canapes to showstopping desserts.
Easy nibbles to have with drinks
Triple cheese stuffed mushrooms with tarragon
Start your soirée with this speedy, cheesy veggie treat. It has just five ingredients and takes just 15 minutes to make!
4 large portobello mushrooms

3 tbsp ricotta cheese

30g parmesan or veggie alternative, grated

30g grated mozzarella or cheddar

1 tbsp tarragon leaves

Rocket salad to serve
Servings: 2
Prep time: 5 mins
Cooking time: 10 mins
Step 1
Heat the grill to high. Remove the mushrooms' stalks, season, and place on a baking tray.
Mix the cheeses and tarragon and season.
Spoon the cheese mixture onto the mushrooms and grill for 8-10 mins, or until bubbling with an oozy consistency.
Step 2
Remove from the tray with a spatula, season, and serve with a rocket salad.
Calories per serving: 216
| | |
| --- | --- |
| Nutrient | Unit (g) |
| Fat | 13 |
| Saturates | 8 |
| Carbs | 5 |
| Sugars | 5 |
| Fibre | 3 |
| Protein | 17 |
| Salt | 0.6 |
Rainbow prawn cocktail
This Asian-inspired twist on the classic prawn cocktail serves up a delicious canapé for lovers of seafood and spice.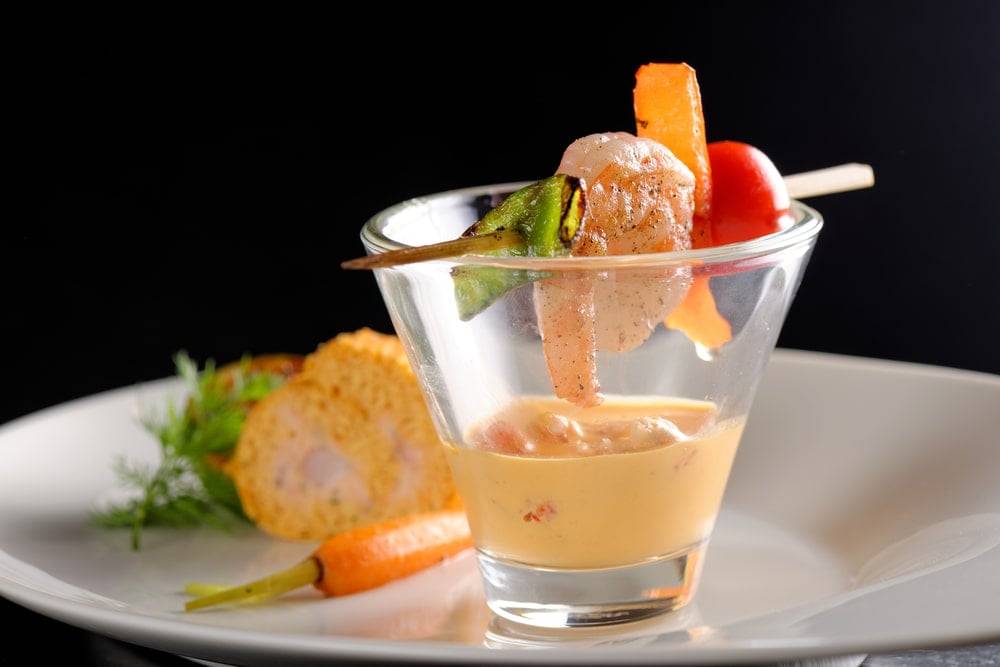 7 heaped tbsp of mayonnaise

1 lime, juiced

3 tsp chilli sauce

15g pickled ginger, finely chopped

3 little gem lettuces, leaves separated

300g cooked king prawns

3 spring onions, shredded

2 tsp black sesame seeds

Handful of prawn crackers, crushed
For the pickles
100ml rice wine vinegar

1 tbsp caster sugar

1 large carrot, peeled

½ large cucumber, peeled into ribbons

6 radishes, thinly sliced
Servings: 6
Prep time: 15 mins
Cooking time: 5 mins plus at least an hour pickling
Step 1
For the pickles, put the vinegar, 50ml water, sugar and 2 tsp sea salt in a pan and simmer for 5 mins over medium heat, stirring until the sugar and salt have dissolved.

Leave to cool for 10 -15 minutes. Put the vegetables in a bowl and pour over the pickling liquid.

Leave in the fridge for at least 1 hour.
Step 2
Mix the mayonnaise, lime juice, sriracha and pickled ginger.

Arrange the lettuce leaves in six bowls, then top with the prawns, pickled veg and sauce.

Garnish with spring onions, sesame seeds and prawn crackers.
Calories per serving: 386
| | |
| --- | --- |
| Nutrient | Unit (g) |
| Fat | 33 |
| Saturates | 3 |
| Carbs | 11 |
| Sugars | 7 |
| Fibre | 3 |
| Protein | 11 |
| Salt | 3 |
Crostini of artichokes & chives
This divine Mediterranean recipe is the ideal starter for your next culinary get-together and takes just minutes to make. And at just 174 calories per serving, these delicious canapés are 100% guilt-free.
390g artichoke hearts

1 lemon, juiced

2 small garlic cloves, 1 crushed, 1 halved

3 tbsp olive oil

25g parmesan cheese, grated

Small bunch of chives, snipped

1 baguette, thinly sliced

A few parmesan shavings to serve
Servings: 6
Prep time: 10 mins
Cooking time: 15 mins
Step 1
Drain the tin of artichoke hearts and put them in a food processor with a squeeze of lemon, the crushed garlic clove, 1 tbsp of olive oil, parmesan, a pinch of salt and plenty of black pepper.

Pulse to a chunky purée, scraping down the sides as needed. Stir in a few snipped chives.
Step 2
Grill 12 slices of the baguette on each side until golden, rub lightly with the cut garlic clove and brush with the remaining olive oil.

Spread liberally with the artichoke mix, scatter over parmesan shavings and remaining chives. Grind over pepper and serve.
Calories per serving: 174
| | |
| --- | --- |
| Nutrient | Unit (g) |
| Fat | 10 |
| Saturates | 3 |
| Carbs | 15 |
| Sugars | 2 |
| Fibre | 2 |
| Protein | 6 |
| Salt | 0.82 |
Easy starters for dinner parties
Vegetable gyoza
With a golden crisp coating, fresh veggie filling, and homemade dipping sauce, our vegetable gyoza are love at first bite!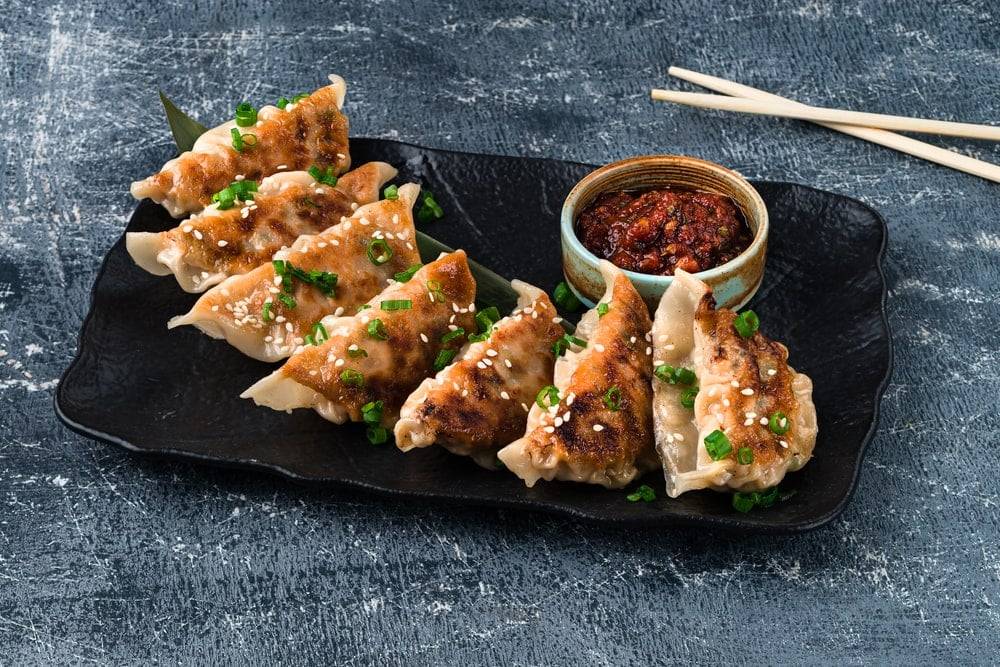 250g plain flour

Cornflour, for dusting

200g white cabbage

4 chestnut mushrooms

1 carrot

4 water chestnuts (optional)

Thumb-sized piece of ginger, peeled and grated

2 garlic cloves, finely grated

3 spring onions, finely sliced

2 tbsp sunflower oil, plus extra for frying

1 tbsp soy sauce

1 tbsp sake, rice wine or dry sherry
For the dipping sauce
6 tbsp soy sauce

2 tbsp rice wine vinegar

Crispy chilli oil (optional)
Servings: 25
Prep time: 2 hours
Cooking time: 20 mins plus 1-hour chilling
Step 1
If you're making your own dough, tip the flour and 1 tsp salt into a bowl. Bring a kettle to the boil and measure 150ml of boiling water.

Carefully pour the water over the flour while mixing with a spoon to form a stiff dough.

When the dough is cool enough to handle, tip onto a surface and knead for 10 mins until smooth.

Wrap the dough and chill for at least 1 hour. Alternatively, you can use 25-30 shop-bought gyoza skins.
Step 2
Grate the cabbage, mushrooms, carrot and water chestnuts (if using), then tip into a bowl.

Add the garlic, ginger and spring onions.

Heat the oil in a wok before tipping in all the veg and stir-fry. Fry over high heat for 3 mins until softened.

Drizzle over the soy sauce and sake and cook for 2-3 mins.

Season to taste. Tip back into the bowl and leave to cool.
Step 3
Divide the dough in two.

Generously sprinkle cornflour onto a

chopping board

or surface and roll one ball of dough until paper-thin.

Use a cutter to cut out rounds of dough and pile them up (the cornflour will prevent sticking).

Repeat the process with all the dough, re-rolling the trimmings until you have around 25 skins.
Step 4
To assemble, sprinkle the cornflour on a

tray

and prepare a bowl of cold water.

Hold a skin in the palm of one hand and dollop a teaspoon of the filling in the centre.

Dip your finger in the water and wipe around the skin's inside edge. Bring the edges together, pinching pleats along one side.

Space them out on a baking tray and freeze.

Once frozen, tip them into a bag and return to the freezer. *

* Gyoza will keep for three months in the freezer and can be cooked from frozen or chilled.
Step 5
Heat a drizzle of oil in a

non-stick frying pan

with a lid.

Fry, flat side down, for 2 mins until golden.

Add 100ml water to the pan and cover.

Cook over medium heat for 3-5 mins until the water has fully evaporated and the gyoza is cooked through.

Remove the lid and leave the gyoza to sizzle on the bottom for a minute or two. Mix the dipping sauce ingredients, then serve with the gyoza.
Calories per serving: 52
| | |
| --- | --- |
| Nutrient | Unit (g) |
| Fat | 2 |
| Saturates | 0 |
| Carbs | 10 |
| Sugars | 2 |
| Fibre | 1 |
| Protein | 1 |
| Salt | 0.7 |
Scallops with chorizo & hazelnut picada
Scallops with smoky chorizo and hazelnut picada, sherry and rustic bread. A vibrant Spanish starter that sets the tone for a vivacious evening.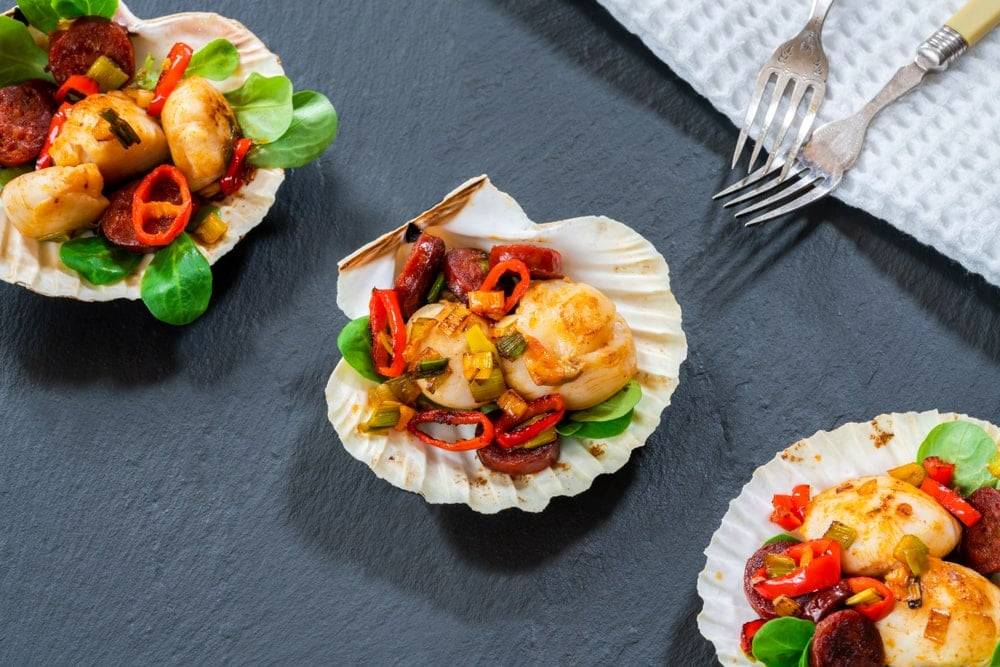 12 queen scallops, cleaned and 4 clean scallop shells

1 tbsp extra-virgin olive oil, plus extra for drizzling

80g chorizo, cut into small chunks

30g butter

A squeeze of lemon juice
For the picada
1 tbsp olive oil

40g rustic bread (like sourdough), cut into 1cm cubes

2 garlic cloves, sliced

15g skin-on hazelnuts

½ unwaxed lemon, juiced and zested

1 tbsp finely chopped coriander

¼ tsp sherry vinegar

1 tbsp amontillado sherry
Servings: 4
Prep time: 25 mins
Cooking time: 15 mins
Step 1
For the picada, put ½ tbsp oil in a small frying pan over medium heat.

After a few minutes, drop a piece of the bread in – if it sizzles, reduce the heat and add all the bread in a single layer.

Fry until the bread is light gold before spreading it out on kitchen paper to cool.

Add the remaining oil to the pan, fry the garlic until golden and add to the bread.
Step 2
Toast the nuts until fragrant, then rub in a tea towel while still warm to remove the skins.

Using a food processor, blitz the bread and garlic with the nuts, lemon zest and coriander until the mixture is coarse.

Mix in the vinegar, sherry and salt before adding lemon juice to taste.
Step 3
You'll find a little white bit on the sides of your scallops which becomes tough when cooked, so it's best to cut if off.

Pat the scallops dry with kitchen paper (they don't colour well if fried when wet) and brush with extra virgin olive oil.
Step 4
Fry the chorizo in a small frying pan until coloured with a slight crust.
Step 5
Meanwhile, heat another pan until searing hot. Add a small glug of oil, then the scallops.

Season and cook the scallops for about 30 seconds on each side. Next, divide them between the four shells, add the chorizo and top with the hazelnut mixture and a knob of butter.

Cook under a hot grill for approximately 90 seconds, until cooked through.

Squeeze on a little more lemon juice and serve immediately.
Calories per serving: 275
| | |
| --- | --- |
| Nutrient | Unit (g) |
| Fat | 21 |
| Saturates | 7 |
| Carbs | 8 |
| Sugars | 1 |
| Fibre | 1 |
| Protein | 12 |
| Salt | 1.4 |
Lobster tails with lemon and herb butter
Tender, juicy and tantalisingly flavourful, these lobster tails with lemon and herb butter are to die for. And with a speedy half-hour cook time, they're the perfect segue to your main dish.
4 lobster tails, defrosted

Lemon wedges to serve
For the butter
125g butter, softened

1 garlic clove, crushed

1 tsp Dijon mustard

1 lemon, juiced

Handful of parsley leaves, finely chopped, plus extra to serve

Small pinch of chilli powder (optional)
Servings: 4
Prep time: 20 mins
Cooking time: 10 mins
Step 1
To make the butter, mix all the ingredients, season, and set aside.

You can make the butter two days in advance – just take it out of the fridge to soften before using.
Step 2
Use kitchen scissors to cut along the tops of the lobster shells before flipping the tails over. Crack the ribs of the shell.

Open the shell and loosen the meat attaching it to its base. Pull it halfway out.

Use a knife to cut along the top of the tail. Don't cut all the way through and remove any veins you see.

Place the tails in a shallow roasting tray and add some butter to each one.
Step 3
Grill the lobster tiles over high heat for 10 minutes until cooked through.

Lay them on plates and drizzle with the butter from the pan – alternatively, pour the butter into a ramekin for dipping.

Serve with lemon wedges and scatter with extra parsley (optional).
Calories per serving: 325
| | |
| --- | --- |
| Nutrient | Unit (g) |
| Fat | 27 |
| Saturates | 17 |
| Carbs | 1 |
| Sugars | 1 |
| Fibre | 0.1 |
| Protein | 19 |
| Salt | 1.42 |
Easy dinner party recipes: mains
Lemon roast chicken with chorizo stuffing
A delectable delight for meat-eaters, our lemon roast chicken balances the bitterness of lemon with chorizo's sweet smokiness.
4 onions, 2 unpeeled and thickly sliced, 2 finely chopped

2 tbsp olive oil, plus extra for greasing

3 tsp sweet smoked paprika

4 lemon thyme sprigs

5 kg whole chicken

2 lemons, zested and halved

100g chorizo, diced

120g cooking chorizo, meat squeezed from the skins

175g white breadcrumbs

100g soft dried apricots, chopped

4 tbsp chopped flat-leaf parsley

1 large egg, beaten

250ml white wine

400ml chicken stock

Serve with sautéed potatoes and steamed broccoli (optional)
Servings: 5
Prep time: 35 mins
Cooking time: 1 hour 45 mins
Step 1
Heat the oven to 200°C/180°C fan/gas mark 6. Lay the sliced onions in the centre of a

roasting tin

.

Mix the oil with 2 tsp paprika and leaves from one of the thyme sprigs. Rub over the chicken, place on the bed of onions and season well.

Put 3 of the lemon halves inside the cavity, cover the chicken loosely with foil and roast for 45 minutes.
Step 2
Meanwhile, make the stuffing.

Cook the diced chorizo over low-medium heat until crisp. At this point, there should still be plenty of oil in the pan.

Scoop out the chorizo to cool and add the onions into the pan. Soften for 15-20 mins before tipping into a bowl to cool.
Step 3
Rub together the breadcrumbs and chorizo as it cooks (as if you were rubbing butter into flour to make pastry).

Once the breadcrumbs are orange, mix in the cooked chorizo, onions, apricots, parsley, thyme leaves, paprika, egg, and lemon zest.

Squeeze over the juice from the remaining lemon, season with plenty of pepper, and squish everything together with your hands.
Step 4
Grease a small roasting tin and insert the stuffing, using a fork to rough up the surface – this creates the crispy bits.

Scatter any leftover thyme sprigs.
Step 5
After 45 minutes, remove the foil from the chicken and pour the wine and stock into the roasting tin.

Reduce the oven to 180°C /160°C fan/ gas 4 and put the chicken back in with the stuffing on a lower shelf.

Roast for 45 minutes until the juices run clear.
Step 6
Rest the chicken for 15 minutes while you bubble the pan juices to reduce a little.

Carve and serve with the stuffing, reduced juices, sautéed potatoes and steamed broccoli (if using).
Calories per serving: 760
| | |
| --- | --- |
| Nutrient | Unit (g) |
| Fat | 35 |
| Saturates | 10 |
| Carbs | 46 |
| Sugars | 18 |
| Fibre | 5 |
| Protein | 56 |
| Salt | 1.9 |
Salmon & spinach with tartare cream
Let the ingredients do the talking with this lightning-quick salmon dish with tangy tartare cream.
1 tsp sunflower or vegetable oil

2 skinless salmon fillets

250g bag spinach

2 tbsp reduced-fat crème fraîche

½ lemon, juiced

1 tsp caper, drained

2 tbsp flat-leaf parsley, chopped

Lemon wedges to serve
Servings: 2
Prep time: 15 mins
Cooking time: 10 mins
Step 1
Heat the oil in a pan and season the salmon on each side.

Fry for 4 minutes on each side until golden and the flesh flakes easily.

Leave to rest on a plate while you cook the spinach.
Step 2
Tip the leaves into the hot pan, season well and cover to wilt for 1 minute, stirring once or twice.

Spoon the spinach onto plates, then top with salmon.

Heat the crème fraîche in the pan with the capers, parsley and a squeeze of lemon juice, before seasoning to taste.

Be careful not to let it boil. Spoon the sauce over the fish and serve with lemon wedges.
Calories per serving: 321
| | |
| --- | --- |
| Nutrient | Unit (g) |
| Fat | 20 |
| Saturates | 5 |
| Carbs | 3 |
| Sugars | 3 |
| Fibre | 3 |
| Protein | 32 |
| Salt | 0.77 |
Butternut squash chilli
Swapping mince for squash, our warming Mexican-inspired stew will delight your dinner party guests, whether they're meat-eaters or vegetarian.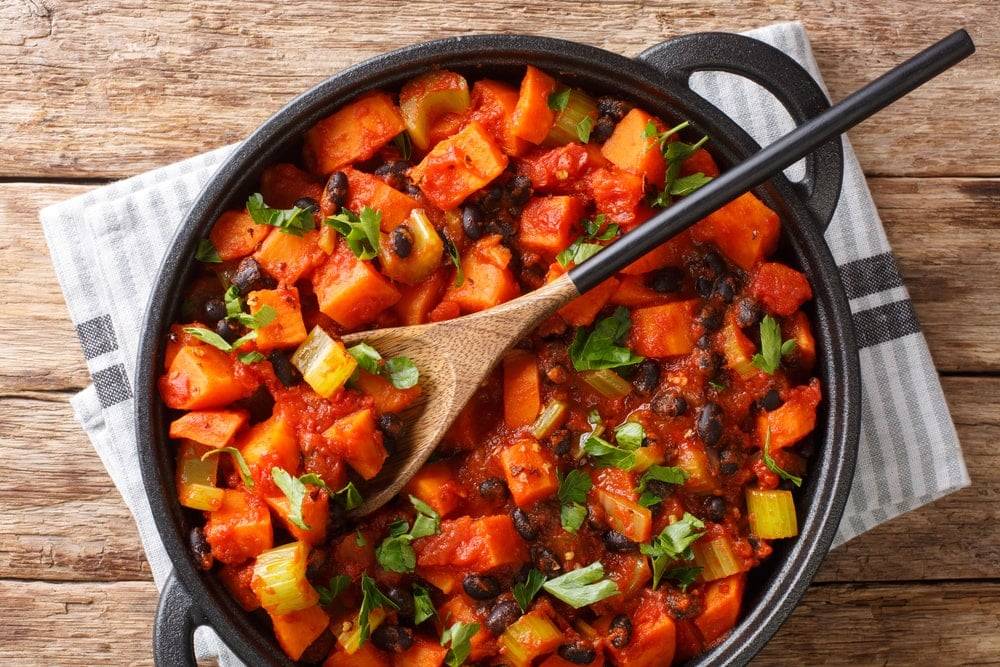 600g medium vine tomatoes or a 400g can of chopped tomatoes or cherry tomatoes

2 tbsp olive oil

2 onions, finely chopped

2 large garlic cloves, finely chopped

1 red birds-eye chilli, deseeded and chopped

1 tsp cayenne pepper

1 tsp oregano

1 bay leaf

600g butternut squash, peeled and cubed

12 pitted green olives, roughly chopped

150ml red wine

½ vegetable stock cube

200g jar piquillo pimiento peppers, or 2 roasted Romano peppers, roughly chopped

400g can of black beans or red kidney beans, drained

Small bunch of chives, snipped

175ml soured cream
Servings: 4
Prep time: 30 mins
Cooking time: 1 hour
Step 1
If you're using fresh tomatoes, pour boiling water over them in a bowl, leave for 30 seconds, then lift out, peel and chop.
Step 2
Heat the oil in a frying pan with a lid before adding the garlic and onions.

Soften gently, stirring occasionally.

Stir the chilli, cayenne, oregano, and bay leaf into the onions. Stir-fry for a minute or so before stirring in the squash, olives and wine.

Simmer for a couple of minutes, stirring occasionally, then add the tomatoes and 200ml water.

Crumble in the stock cube and stir.

Bring to a simmer, cover and cook for 30 minutes, stirring occasionally.
Step 3
Add the peppers to the pan and check the seasoning – add more water if it's looking dry.

Cover and cook for 25-30 minutes until the squash is tender.
Step 4
Add the beans to the pan and reheat.

Serve with chives and sour cream on the side.
Calories per serving: 370
| | |
| --- | --- |
| Nutrient | Unit (g) |
| Fat | 16 |
| Saturates | 6 |
| Carbs | 33 |
| Sugars | 16 |
| Fibre | 11 |
| Protein | 10 |
| Salt | 1.7 |
Easy dinner party recipes: desserts
No-bake Millionaire's cheesecake
Indulge in this no-bake chocolate cheesecake for afters. Our decadent recipe makes 10-12 slices, so there'll be plenty left for your guests to take home!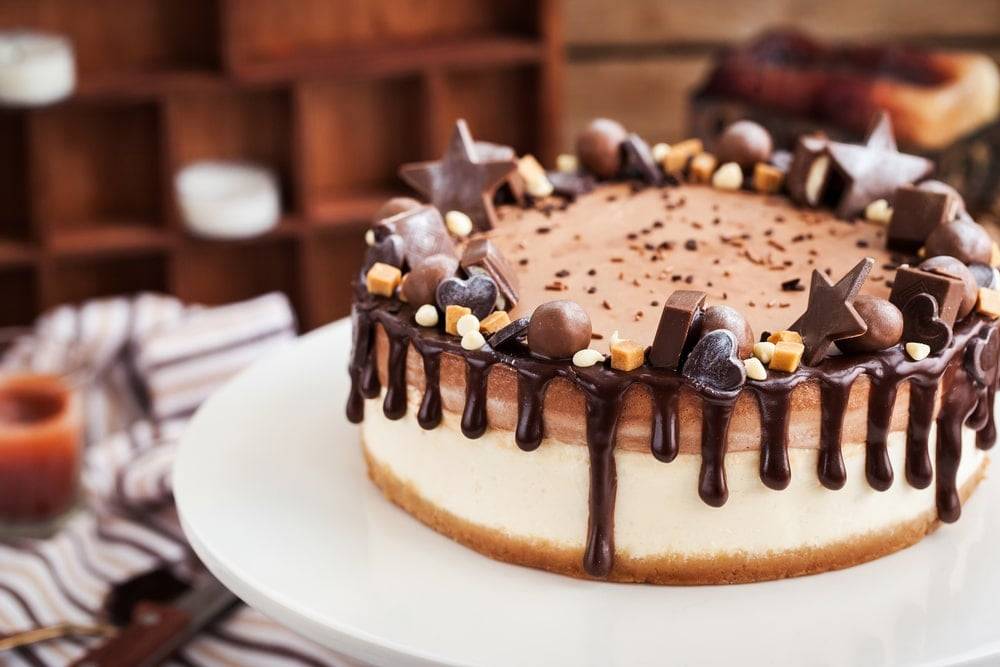 75g butter, melted, plus extra for the tin

250g shortbread biscuits

250g mascarpone

300g soft cheese

50g icing sugar

40g cocoa powder

300ml double cream

Half a 400g can of caramel or 200g dulce de leche

50g dark chocolate, chopped

Chocolate stars or star sprinkles to decorate
Servings: 10-12
Prep time: 35 mins
Cooking time: No cooking required, just an hour chilling time
Step 1
Butter and line the base of a 20cm cake tin.

Using a food processor, blitz the biscuits into fine crumbs.

Add the butter and blitz again.

Pour the mixture into the tin and press down firmly with the back of a spoon.

Leave to chill while you make the filling.
Step 2
Carefully mix the mascarpone, soft cheese, icing sugar and cocoa until smooth.

Whip up the cream in another bowl until it's stiff, then fold into the mascarpone mixture.

Spoon the mixture over the biscuit base and level the top.

Leave to cool for around an hour.
Step 3
Warm the caramel in a pan until it's easy to spread – don't worry if you overdo it a little, just wait until it cools again.

Pour the caramel onto the cheesecake, spread gently and leave to chill.

While the caramel cools, melt the chocolate in a bowl set over a pan of simmering water (or in the microwave).

Drizzle over the caramel before decorating with sprinkles or stars, then leave to chill until serving time.

Carefully remove the tin and lining and slide the cheesecake onto a serving plate.
Calories per serving: 534
| | |
| --- | --- |
| Nutrient | Unit (g) |
| Fat | 43 |
| Saturates | 27 |
| Carbs | 29 |
| Sugars | 19 |
| Fibre | 1 |
| Protein | |