A Buyer's Guide to Electric Scarifiers
A scarifier is a handy garden tool that uses blades to clear your lawn of lichen, moss, and grass clippings.
And despite the somewhat barbaric name, scarifying is a sure-fire way to aerate your soil and promote healthy grass growth for a luscious lawn.
In this article, we'll answer your burning questions about scarifiers, covering how they work, when to scarify your lawn, and the best VonHaus scarifiers for your garden.
So, let's get into it!
What is a scarifier?
A scarifier is a garden tool that removes vegetation build-up (thatch) from the soil's surface and aerates your lawn.
These functions are vital, as thatch prevents the elements (i.e., sun, water and water) from nourishing your lawn – without scarifying, you'll be left with dry, damaged grass – certainly no recipe for a Wimbledon-worthy lawn!
How do scarifiers work?
A rotating roller with sharp blades turns at a high RPM to scarify and aerate your lawn, moving all the debris into a collection basket for easy disposal and minimal mess!
How to aerate your lawn
To aerate your lawn, drop your scarifier's body to its lowest setting and allow the blades to cut into your soil and cut the lateral grass shoots (stolons). This process increases the nutrients going to your lawn's roots, promoting grass growth for a healthy green lawn.
When do you scarify a lawn?
Over time, plant matter like dead leaves, moss, roots, and cuttings accumulate on your lawn, stifling the soil and increasing acidity.
And even if you keep your lawn in tip-top shape, scarifying your lawn at least twice a year is essential:
After the first mow in spring to help clean up the grass.
In autumn, to help strengthen the soil and remove dead grass.
Lawn scarifying in spring
In spring, give your lawn a light scarifying on a higher setting.
Heavy scarifying at this time will likely damage your lawn due to the warm, dry weather.
Lawn scarifying in autumn
In autumn, the opposite is required – heavy scarifying on the lowest setting.
This is because the warmth and moisture in the soil will help your lawn recover more quickly.
What happens if I scarify my lawn too much?
Lawn scarifying takes its toll on the grass and roots, so it's best to err on the side of caution and wait 4–6 weeks for your lawn to recover before doing it again.
Here are a couple of things to keep in mind when scarifying your lawn:
Don't scarify the lawn if it's very wet or dry.
If your garden is heavily shaded (trees, bushes etc.), scarifying in autumn may be problematic as the grass will be thinner.
What is the best scarifier for my lawn?
The best scarifier for your garden depends on your budget and the job at hand. But here are some quickfire tips to help you make the right decision:
If your lawn measures 300 m² or under, you'll need a lower-powered electric scarifier with a collection box.
For medium-sized gardens (between 300 to 500 m²), you'll need an electric scarifier with a power rating of around 1500W – this one's just the ticket and includes a free rake!
But if you're caring for a large, luscious lawn (over 500 m²), a high-powered scarifier with an extra-large collection box is essential.
Our 1800w 2in1 electric lawn scarifier and rake ticks both boxes, with a bumper 55L collection box and 10m power lead giving you the freedom to get the job done.
VonHaus scarifiers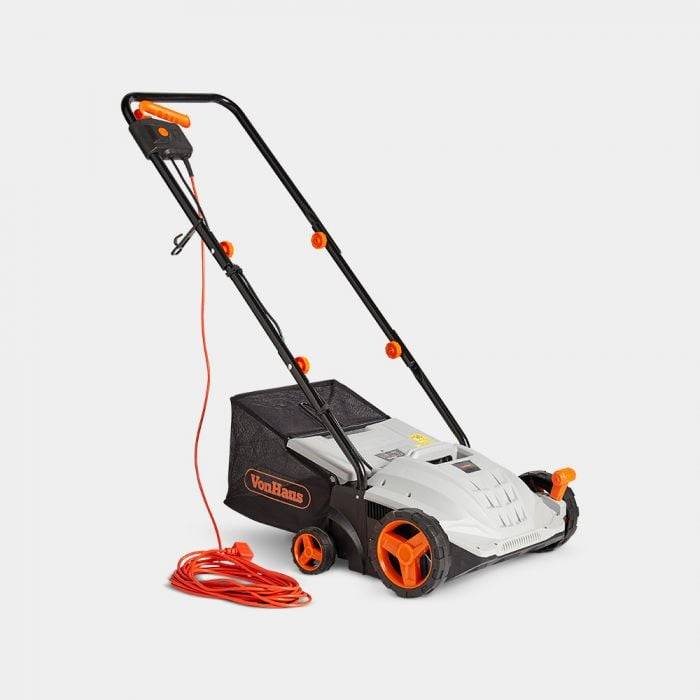 The 1500W model comes with two interchangeable rollers, one for raking the lawn and one to scarify and aerate.
Equipped with a generous 28L collection box capacity and 320mm working width, it's ideal for small to medium size lawns and is well within most budgets!
The bigger brother of the model on the left, this 1800W scarifier is best suited for gardens with a medium to large lawn.
With a more powerful 1800W motor, a larger collection basket (55L), and wider working width (380mm), this model makes easy work of larger lawns.
So, if you're getting your garden ready for summer and you've got a lot of grass to get through, this is just the ticket.
Conclusion: Our lawn scarifying top tips
Now you're clued up on scarifiers, here are a few extra tips for optimal results:
Mow your lawn as short as possible before scarifying.

Your grass will not look good after scarifying! But don't worry, just leave your lawn to recover for 4-6 weeks to reap the benefits.

For best results, try overseeding after scarifying and fertilising your lawn.

When scarifying in spring, add some seed and topsoil after scarifying to encourage healthy grass growth.

Use moss and weed killer a week or two before cutting your lawn to prevent air bound moss spores from being released.

Compost that thatch and moss!
---
With a fresh, healthy lawn, your garden's almost summer-ready – but if you've still got some work to do, be sure to check out our blog, which is packed full of lifestyle tips, handy hacks, and interior inspiration to make you haus a home!
2022-04-07 10:11:00
0 viewed