How To Get a Wimbledon-Worthy Lawn | Lawn Care Tips
With the Wimbledon Championships upon us, all eyes turn to the sacred Centre Court turf.
Which begs the question: is Wimbledon turf used all year round?
Almost!
Because the day after the trophy ceremony, eager ground staff start preparing the courts for next year's tournament.
Okay, so you probably haven't spent the last year preparing your lawn, but you can still achieve grand slam grass not even Novak would sniff at!
By following our top lawn care tips and giving your grass some TLC, you'll enjoy a lush lawn all summer long – and beyond.
We'll see you on the court...
How to achieve a centre court surface
1. Start by clearing up any debris, sticks or leaves.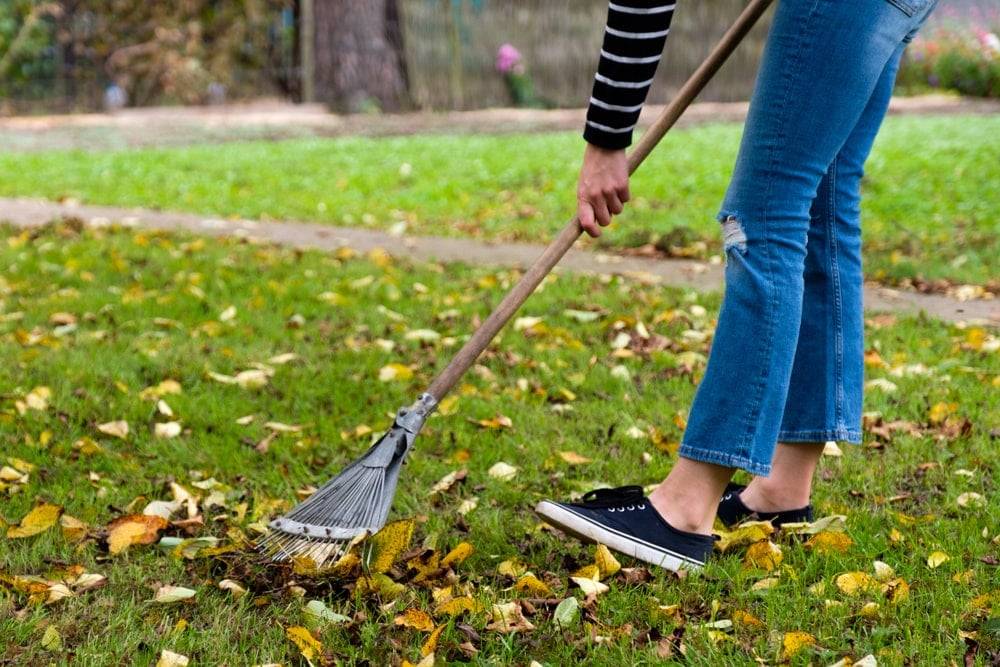 To get your lawn in Wimbledon-worthy shape, start by raking the grass to allow light and air to penetrate the soil. This encourages healthy grass growth, so buoyant it'd absorb Rafa Nadal's serve!
Using an electric lawn rake is best, but if your lawn is thin and patchy, leave it until late summer.
In the meantime, keep your lawn well-watered until it germinates and the new grass establishes itself.
2. Mow and trim for a clean look
Start by setting your lawn mower's cutting height moderately high, taking no more than a third of the length off at a time. This promotes growth and prevents the lawn from becoming stressed, as longer grass provides more shade and retains vital moisture.
It's also a good idea to leave the grass clippings on top of your lawn, as the mulch provides nutrients and shade – our 2-in-1 lawn mower and mulcher is the perfect all-rounder.
Little and often is key in summer
Trimming your lawn's edges is a small task that yields big results.
Seriously – it'll completely revamp your lawn's appearance.
For neat, sculpted lawn edges, check out our electric grass trimmers. Cordless for maximum manoeuvrability, you'll be scampering around your garden in no time – just like those on Centre Court!
3. Scarify & aerate to keep your grass healthy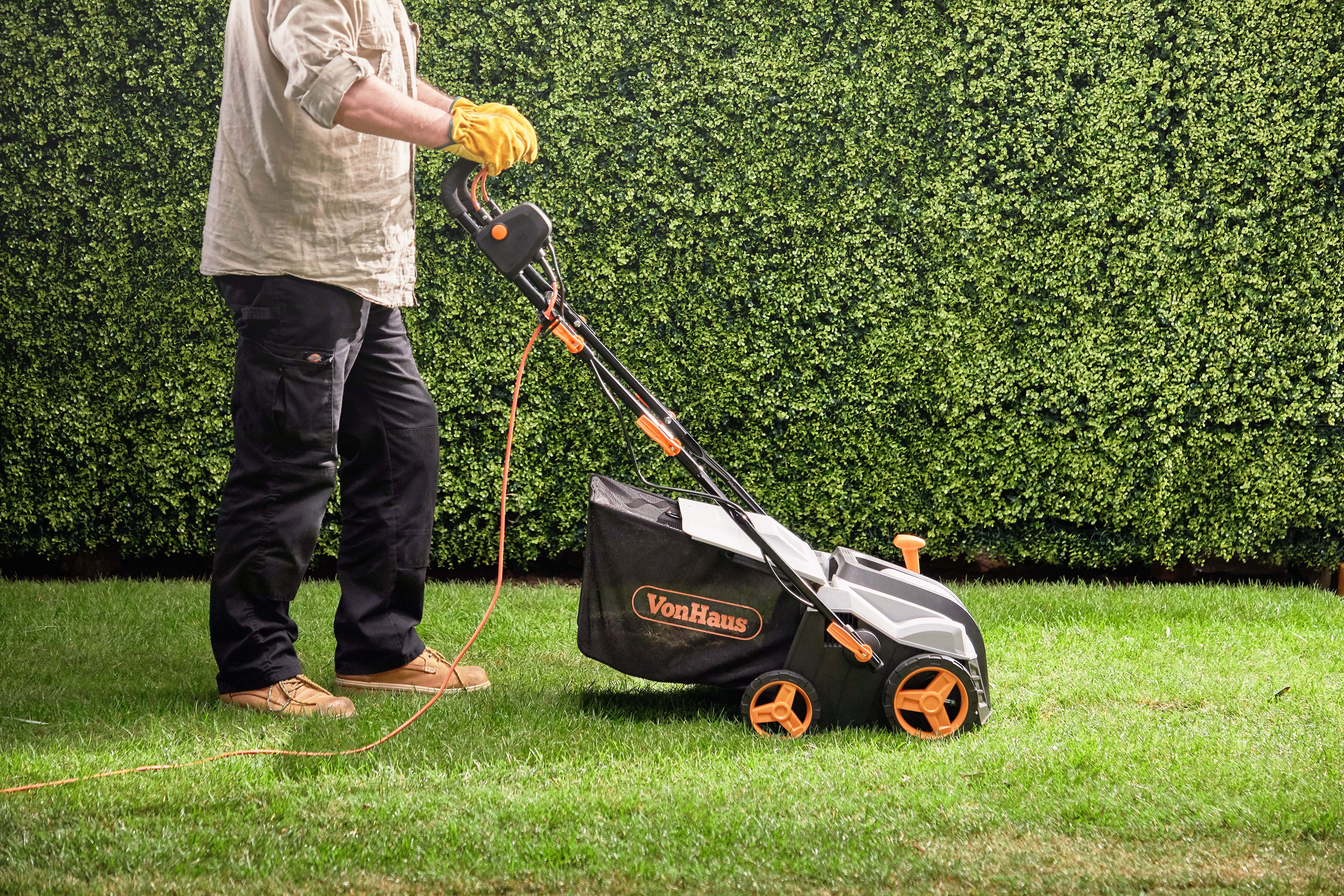 Moss is a major problem in damp, poorly drained lawns, but spring and summer are the ideal seasons to fix it.
Aeration perforates the soil with small holes to allow air, water and nutrients to penetrate the grassroots, aiding their growth.
It's easy, too, you can aerate your lawn with a humble garden fork, but if your garden is on the larger side, a scarifier will do all the hard work for you!
Here's how to do it:
Start by treating the moss with moss killer, then wait two weeks before scarifying your lawn.
Scarifying sound a little…scary?
Don't panic; our A-Z on scarifiers explains all, and you only have to do it twice a year for optimal results!
4. How often should you water your lawn?
Ensuring your lawn is moisture-rich is another crucial step towards a Wimbledon-worthy lawn, especially in the dry summer months. No hose? No problem – you can grab one here.
We recommend watering your lawn thoroughly once a week. Any less, and the grassroots will become starved of moisture.
Watering early in the morning or evening is best, as you'll reduce water loss via evaporation.
Avoid watering on warm nights because this, plus the humidity in the air, is a one-way ticket to fungus town!

What should I do if my lawn starts turning brown/ yellow?
During one of our notorious summer heatwaves, oddly coloured patches can appear on your grass. Don't worry; your lawn will recover its green sheen once the temperature drops and the rain descends.
But if you really can't stand those pesky patches, grab a garden hose and water your lawn daily until its lush hue reappears.
5. Lawn feeding tips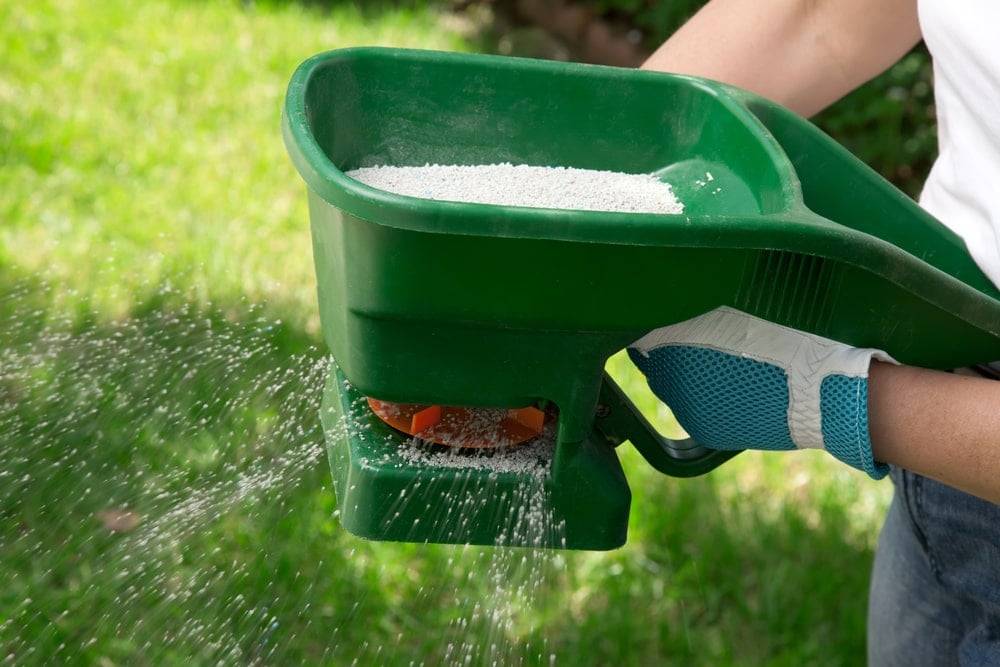 Lastly, it is essential to feed your lawn because, like all living things, grass needs an adequate supply of nutrients to grow strong and healthy.
If you're blessed with a big garden, use a spreader for even coverage of feed and seed.
But be wary if your lawn is dormant, as adding fertiliser will add extra stress and waste your fertiliser. So, it's best to wait until your lawn is replenished before doing so.
VonHaus Top Tip: Use fertiliser with iron for that iconic Wimbledon green.
---
And there you have it – by spending a little time and effort on your lawn, you can achieve a Court-like finish your neighbours will envy!
Game, set, match.
---
If you found these tips helpful or would like to share some of your own, let us know in the comments!
For more handy guides, lifestyle hacks, and interior inspiration, check out our blog – we post weekly, so you'll always be in the know!
2019-06-27 14:18:00
19 viewed