The ultimate family fire pit cookbook
Contemporary, warming, and oh-so-inviting, fire pits have recently taken British gardens by storm, and their popularity shows no signs of dwindling.
But many people miss their other primary function – you can BBQ on them, so no more fumbling with firelighters!
With the right tools and recipes, fire pit dinners add an exciting, primal element to your summer bites, especially when you have fun recipes that involve the whole family!
We've created the ultimate family fire pit cookbook to get you out of the kitchen and into the evening sun, with irresistible recipes from Loopy Folkes, chef and shoot stylist at The Seed Group.
From gourmet burgers to delish desserts, take your pick from our fire pit cookbook and enjoy your fire pit all summer long!
Ultimate Chicken Burger
Ingredients
Makes 3 burgers
6 boneless chicken thighs
6 rashers of streaky bacon
3 slices of cheddar
3 brioche buns
1 red onion
1 large tomato
1 cos lettuce
Cornichons
Mayonnaise
Dry Rub
2 tsp dried coriander
2 tsp cayenne pepper
2 tsp onion powder
2 tsp garlic powder
2 tsp dried tarragon
2 tsp smoked paprika
½ tsp ground cumin
Pinch of salt and pepper
You will need:
Method
Mix the dry rub ingredients and massage them into your chicken thighs. Leave overnight if possible, or for a few hours if not.

Light your fire pit and leave the wood to burn to embers. Before placing the grill onto the firepit, pop the onion whole into the edge of the embers. Put the grill and hot plate on, season your chicken thighs, and then put them onto the grill. Turn regularly for an even cook.

Cook the bacon on the hot plate until it's nice and crispy, turning once or twice. Toast the burger buns on the hot plate with any remaining bacon fat and, once golden, pop the rashers onto the burger base and spread a generous amount of mayonnaise onto the bun.

The chicken will take about 10 minutes to cook; once ready, place a slice of cheddar on three of the chicken thighs; leave for 2 minutes to let the cheese melt before stacking a non-cheesy chicken thigh on top. Pop onto your bacon and mayo burger bun.

Using oven gloves, remove the grill and take the onion out of the charcoal; give it a quick rub to remove some of the char, then squeeze it gently onto a board, and the delicious soft-cooked onion will slide out. Top your burger with rings of red onion, sliced tomatoes, cornichons, and lettuce.
Salted Caramel Chocolate Pots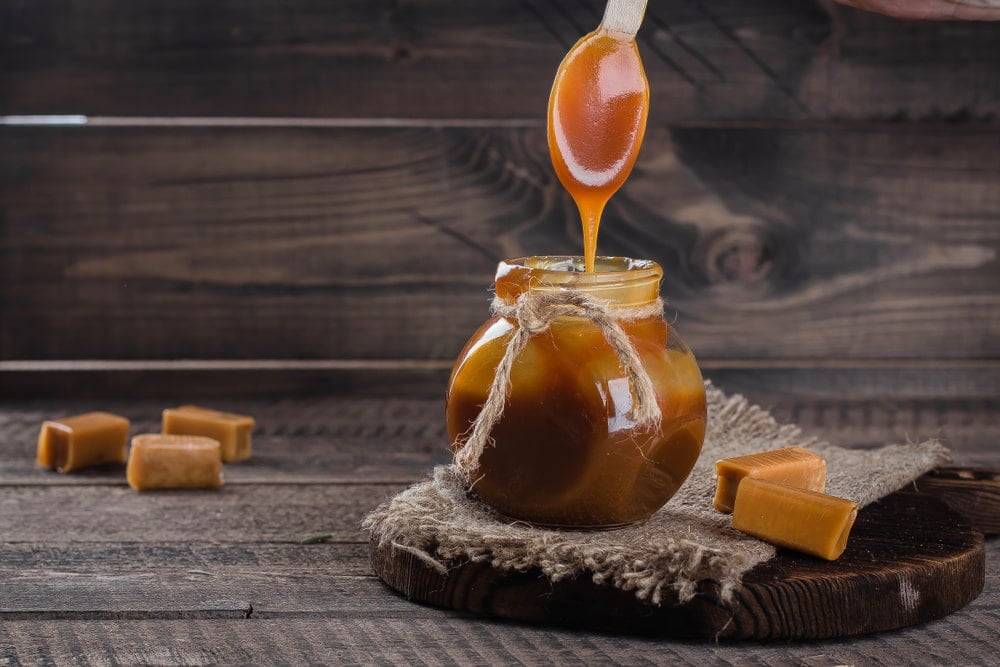 Ingredients
Serves 3
150g dark chocolate
50g milk chocolate
50g butter
150g caster sugar
100g plain flour
3 eggs
3 tsp salted caramel
100ml double cream
You will need:
Method
First, you'll need to light your fire pit. You can then crack on making the chocolate pots while the fire burns down.

Put the chocolates and butter into a pan and place on the grill, stirring until everything has melted.

Mix the eggs and sugar, stir into the melted chocolate and fold in the flour. Pour into 3 camp mugs and spoon a dollop of salted caramel into the middle of each one.

Put all three into your Dutch oven with a separate mug full of water, pop the lid on and leave to cook in the fire pit's embers for 12 - 15 minutes. They should be lovely and gooey in the centre and are simply divine with a drizzle of cream.
Dutch Oven Lamb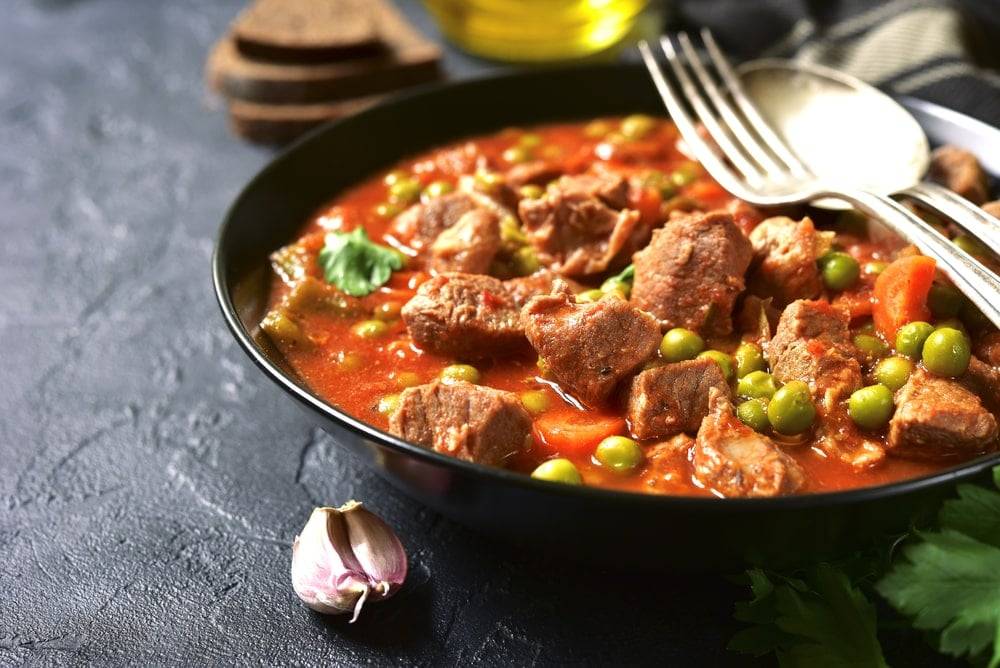 Ingredients
Lamb Loin - 1 - 1.2kg
2 cans cannellini beans
4 large tomatoes
2 carrots
2 celeries
2 garlic cloves
Salt and pepper
½ bottle of white wine
Stuffing
Apricots 50g, 2 tsp coriander and 2 tsp cumin spices, ½ red onion, olives, pistachios.
Garnish
A handful of fresh herbs (parsley, coriander, mint)
Method
Light your fire pit before chopping all the stuffing ingredients until they are well combined. Lay the lamb skin side down on your board and season well before putting in the stuffing. Roll and tie with kitchen string to ensure it doesn't unroll.

Place your Dutch oven onto the grill over the fire pit (if you do not have a grill then just put the Dutch oven straight into the fire pit) and add a dash of olive oil. Sear your lamb all over.

Chop all the other ingredients and place them into the oven with 2 tins of beans and half a bottle of white wine.

Place the lid on and cover with embers. Leave to cook for 1 hour before removing the lamb and wrapping it in foil to rest for 20 minutes.

Spoon the gooey sauce onto a serving plate before topping with lamb and freshly chopped herbs.
Kebabs with Flatbreads
Ingredients
For the koftas
500g lamb mince
A handful of white breadcrumbs
2 tsp chilli salt (dried chilli flakes and sea salt)
Pinch of black pepper
3 garlic cloves, crushed
1 tsp ground cumin
1 tsp ground coriander
1 tsp ground cinnamon
For the kebabs
1 courgette, cubed
1 red onion, into chunks
200g mushrooms, halved
Halloumi cut into chunks
3 mixed colour peppers
Flatbreads
200g self-raising flour
1 generous tsp baking powder
150g natural yoghurt
Garnish
A handful of fresh herbs (parsley, coriander, mint)
Tzatziki
1 bag of mixed salad leaves
1 lemon
Method
Light your fire pit and let the wood burn down while you make the lamb koftas.

Mix all the kofta ingredients in a bowl, making sure everything is well combined.

Chop up the other vegetables and shape the kofta mix into small oblong shapes. Start building the kebabs by skewering the vegetables, halloumi and koftas on; once the skewers are full, put them onto the grill over the fire pit.

Rub the peppers with olive oil and season generously before placing them straight onto the embers. Be sure to turn them regularly. Once they're charred all over, place them in a bowl and cover with cling film for 5 minutes, before peeling the skins and tearing into strips.

While the kebabs cook, make the flatbreads by mixing all the ingredients and giving them a knead for 1 minute. Roll out the dough and cut it into generous triangles. The kebabs will take about 8 minutes; once they're cooked, pop them onto a serving plate to rest.

Put the grill as low as you can to the embers without touching them and pop on the flatbreads. They will get a lovely char on them quickly so be sure to flip them over a few times, so they get cooked all over and little pockets of air appear.

To serve, place the flatbreads on the serving plate with the kebabs on top, dress with a handful of salad, wedges of lemon, plenty of chopped fresh herbs, torn charred peppers and dollops of tzatziki.
Drop Scones with Bacon and Eggs
Ingredients
Serves 4
Drop scones
175g self-raising flour
1 tsp baking powder
40g caster sugar
Pinch of salt
1 free-range egg
200ml/7fl oz milk
8 rashers of bacon
4 eggs
Method
Light your fire pit and let it burn down before moving the hot plate over the embers to heat up. Place the rashers on to cook while you make the batter by mixing the dry ingredients, making a well in the middle of the bowl, and adding the wet ingredients. Whisk well, ensuring there are no lumps.

Flip the bacon over and move to the other side of the hot plate, then spoon the drop scone mixture onto the hot plate – it will be nicely oiled by the bacon. Remove the bacon onto a serving plate and crack your eggs onto the hot plate.

Flip the drop scones and leave them to cook for another minute before putting them on the serving dish with your bacon. If you like your eggs sunny side up, take them off and pop them onto the serving dish. Drizzle the pancakes with syrup or layer up the drop scones with egg and bacon before tucking in.
---
If you're salivating at the thought of these mouth-watering recipes, why not get cracking with our incredible cookware range, featuring all the tools you need to nail any recipe from our fire pit cookbook, one-pot wonders and beyond!
For more recipes and home and garden inspiration, head over to our blog.
And until next time, friends, Bon Appétit!
2022-08-15 11:53:00
0 viewed