How to secure a parasol in 10 easy steps
Sudden gusts of wind can turn a garden party inside out, sending your guests scrambling for cover. But a top-quality parasol puts paid to garden tornados, sheltering your soirée into the wee hours.
That's only half the solution, though. To make the most of your shelter, you'll need to secure your parasol the right way. And we're here to explain how.
Today, we'll show you how to stop your parasol from blowing over and help you choose the best parasol for windy conditions.
So, strap yourself in and let's get to it.
1. Choose a sturdy parasol
First, ensure your parasol is made from material that can withstand the elements. A quality parasol can last for years, so picking the right one is crucial.
Opt for a parasol that is strong enough to withstand gusts, and if you'll be moving it around, choose one that's lightweight for easy portability.
Our range features a variety of premium parasols and compatible bases.
Made from sturdy materials such as wood and aluminium, they provide durable and reliable wind resistance.
The accompanying bases will securely hold your parasol in place while being lightweight enough to move around your garden.
2. Choose the right type of installation
There are three types of parasol installation:
Freestanding: The parasol is added to a base that isn't anchored to the ground. This is less stable than fixed installation but provides added portability. You can also feed your parasol through a compatible outdoor dining table slot into the base.
Fixed: The best option for high-wind areas, but as the parasol is fixed to the ground, you will have to disassemble it each time you want to move it to a new location.
Wheeled: Best for portability but not suitable for high-wind areas.
---
The best option depends on your needs: are you only using the parasol for garden parties, or are you seeking permanent shelter from the elements?
3. Pair with a compatible parasol base
There's nothing worse than finding the perfect parasol for your garden only to find it doesn't fit in the base. Don't worry; all our parasols are compatible with any base from our range.
Still, you may be wondering what parasol base you'll need. Here's a handy ratio:
1kg: 10cm parasol diameter
While not completely necessary, you might want to add a sandbag or two for extra stability when it's particularly windy.
4. Find the right spot
Aside from blocking sunlight, there are two things to consider when positioning a parasol:
Placement surface: Ensure your parasol is kept on an even, solid surface for maximum stability.
Wind protection: If possible, keep your parasol next to a wall or fence to avoid stress caused by heavy winds. Placing your parasol in an open area makes it vulnerable to strong gusts.
5. Take it down in inclement weather
Parasols are wind resistant (ours have wind vents for added resistance), but extreme weather is a no-no. You don't want your parasol going rogue, so only use it when it's safe to do so.
6. Close the parasol when not in use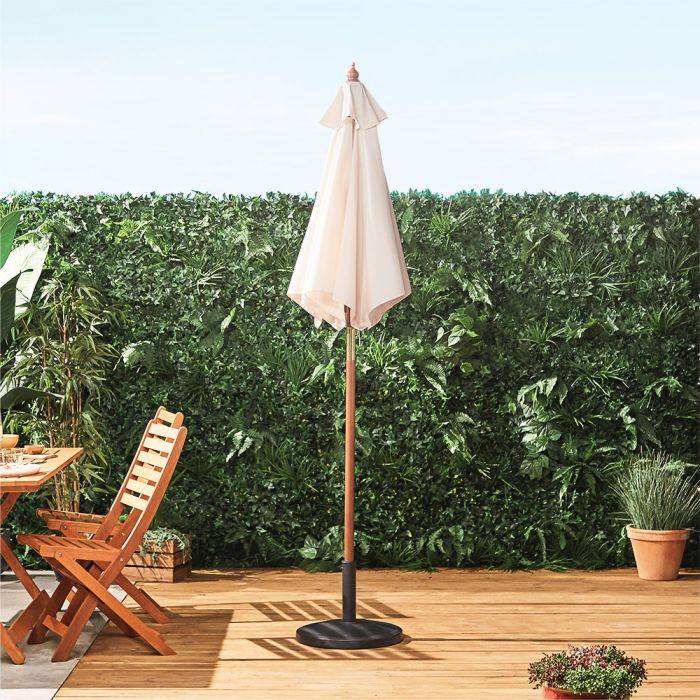 When you're done chilling in the shade, close your parasol. This will protect it from potential damage from the elements and extend its life – win-win!
7. Take cover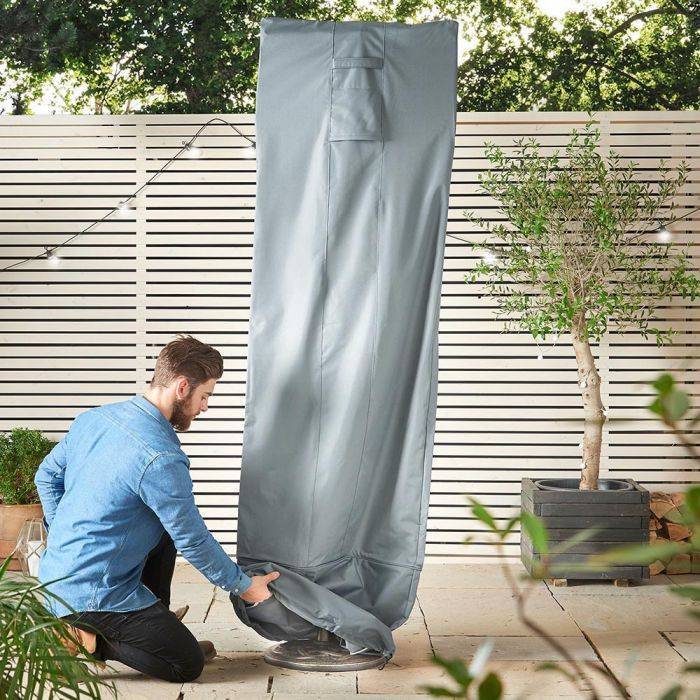 We recommend using a parasol cover for further protection against the elements. This will prevent mildew from humidity and rust on the metal poles.
8. Go full tilt
Tilting and cantilever parasols let you angle the canopy, casting shade where you need it most. This nifty feature also reduces wind impact and holds the parasol securely in place.
Cantilever parasols also benefit from an offset base, so you won't be obstructed by a central pole.
9. Secure with bungee cords to prevent spinning
Spinning parasols can be frustrating – and potentially dangerous. Fortunately, bungee cords can prevent it from happening. Here's how:
1. Wrap a bungee cord tightly around the pole and attach it to a longer cord.
2. Attach the longer cord to the far point of the canopy.
10. Store the parasol
When not in use, store your parasol in a dry, sheltered place, like a shed or garage. This will prevent elemental damage and ensure it's ready to use when needed.
So, what's the best parasol for windy conditions?
The best parasol is the one that suits your needs.
Go for a wheeled or freestanding parasol if you intend to move it often; choose a fixed model if your garden is open or has low fences.
Either way, you'll be set for countess summers to come with a premium parasol and base from VonHaus!
---
There you have it, ten top tips for securing your parasol; we hope they were a breeze to follow! And if you feel we left any tips in the shade, let us know in the comments below.
For more DIY tips and interior inspiration, head over to our blog.
2023-01-10 14:37:00
0 viewed